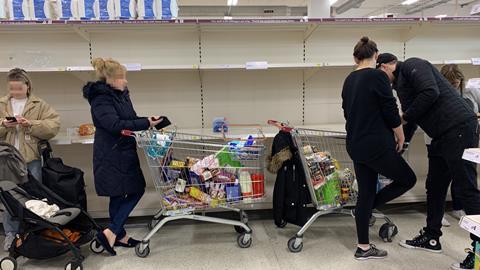 Retail chiefs have said there is no need for shoppers to panic buy toilet roll and other essentials in the event of a no deal Brexit as negotiations between the UK and the EU continue.
However, the British Retail Consortium warned this morning that without a deal, the British public would face more than £3bn in food tariffs and supermarkets would have no choice but to put up prices.
A deadline to end Brexit talks had been set for Sunday, but Prime Minister Boris Johnson and European Commission president Ursula von der Leyen agreed a last-minute extension to keep hopes of a deal alive.
BRC chief executive Helen Dickinson said retailers were preparing for all outcomes and stockpiling extra products, including toilet rolls, tinned foods and other longer life items to ensure a continued supply of essentials.
"Retailers have also been building new customs and VAT processes, working with suppliers to ease logistics, and more," she added.
"While no amount of preparation by retailers can entirely prevent disruption there is no need for the public to buy more food than usual as the main impact will be on imported fresh produce, such as fresh fruit and vegetables, which cannot be stored for long periods by either retailers or consumers."
Dickinson said both sides of negotiations must double down and do what is necessary to agree a zero-tariff agreement, "or else it will be the public that pay the price of this failure".
"With many people's finances already strained by the economic impact of coronavirus, households can ill-afford a significant rise in food prices," she added. "For the sake of customers and businesses around the UK, we need a deal in the next three weeks."
Morning update
The FTSE 100 started the week up 0.3% to 6,564.01pts despite the ongoing Brexit uncertainty.
Early food and drink risers included M&S, up 5.8% to 137.1p, Nichols, up 5.5% to 1,234.1p, Greencore, up 3.2% to 118.3p, and SSP Group, up 2.9% to 331.8p.
Mcbride, Reckitt Benckiser and Ocado were among the early fallers, down 1.7% to 74.7p, 1.3% to 6,550p and 1.1% to 2,151p respectively.
EG Group has expanded its petrol station network yet again with a €485m acquisition in Germany.
The group, owned by the Issa Brothers and PE firm TDR, has entered into a binding agreement to acquire a network of 285 petrol station forecourts in Southern Germany from OMV Deutschland.
The OMV sites are primarily in the Bavaria and Baden-Württemberg regions.
The acquisition will expand EG's presence in Germany, where the group already operates sites under the Esso fuel brand.
As part of the agreement EG will inherit existing fuel supply agreements from OMV.
Zuber Issa, co-founder and co-CEO of EG Group, said: "We are very pleased to have reached an agreement to acquire the OMV retail business in Germany. The acquisition is an exciting opportunity for us to expand EG Group's footprint in Germany, a key European market where we see significant growth potential.
"We look forward to integrating the business into our broader portfolio and further strengthening it through our expertise in grocery & merchandise and foodservice."
Mohsin Issa added "The OMV team that will join the EG family have done an outstanding job of positioning the portfolio for success. The business delivers fuel throughput of approximately 1 billion litres per annum and has a loyal customer base. The supply agreements we will inherit are extremely competitive and alongside the continuation of OMV fuel card acceptance, provide a solid foundation on which we can continue to build."
Consumer goods groups Ultimate Products has upgraded its profits forecast for the year as demand remained high for its brands in supermarkets and online.
The group said in an unscheduled trading update that it had experienced continued momentum in its order book since it announced full-year results on 3 November.
Beldray, Ultimate Products' proprietorial brand for laundry, floor care, heating and cooling, has continued to be the standout performer from across the group's portfolio.
CEO Simon Showman said: "We are delighted with the start that we have made to our new financial year. Our performance with online customers in particular has been exceptionally strong, but our brands also continue to resonate well with supermarket shoppers in both the UK and Europe.
"Our offer also appeals to customers who are prioritising their spend on quality homeware products as they spend more time at home, and our cookware, laundry, cleaning, floorcare and kitchen electrical products are all trading very well. While market conditions remain uncertain in the short-term, the strength of our current performance and the ongoing resilience of our business model means that we remain confident in our future prospects."
The Unilever board today announced the intention to put its climate transition action plan before shareholders and seek a non-binding advisory vote on the company's ambitious emissions reduction targets and the plans to achieve them.
The plan will set out the company's climate strategy to reduce emissions within its operations, through its value chain, as well as describe how the company is managing risks and meeting consumer needs connected with climate change and societal responses to it.
It is the first time a major global company has voluntarily committed to put its climate transition plans before a shareholder vote.
Unilever's targets include zero emissions from its own operations by 2030 and a 50% reduction in the average footprint of its products by 2030.
In addition, in June this year, Unilever announced a new net zero target from sourcing to point of sale by 2039.
CEO Alan Jope said: "Climate change is the most pressing issue of our time and we are determined to play a leadership role in accelerating the transition to a zero-carbon economy.
"We have a wide ranging and ambitious set of climate commitments - but we know they are only as good as our delivery against them. That's why we will be sharing more detail with our shareholders who are increasingly wanting to understand more about our strategy and plans.
"We welcome this increased transparency and in the plan we present, we will be clear both about the areas in our direct control where we have a high degree of certainty of our route to net zero, as well as more challenging areas across our value chain where systemic solutions will be required to achieve our targets."
Unilever will share its climate transition action plan in Q1 2021, ahead of its AGM on 5 May.
This week in the City
It is a quieter week for retail and food news on the markets as the City prepares to break for Christmas.
On Wednesday, Real Good Food reports finals and there is also the latest UK inflation figures.
Thursday brings the full-year results of Upper Crust owner SSP Group, which has been hit hard by the Covid pandemic.
And on Friday morning there is the latest GFK Consumer Confidence survey for December and the ONS Retail Sales figures for November.