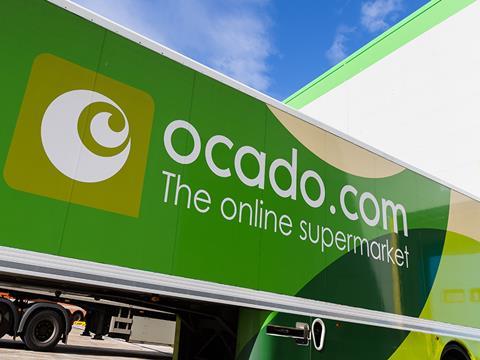 Top story
Ocado (OCDO) has posted a first half pre-tax loss of £9m as its investments capacity, technology and international expansion hit its bottom line.
Total revenues grew 12.1% to £799.9m in the 26 weeks to 3 June 2018, driven by an increase in the average number of orders per week and fees earned from its supply deals.
However, a first half pre-tax profits of £7.7m last year moved to a pre-tax loss of £9m, while EBITDA dropped 13.9% to £38.9m.
Ocado said the reduced profitability was primarily driven by increased investments in capacity and its platform, most notably from opening its new customer fulfilment centre (CFC) in Andover. Ocado also increased spending of head office headcount to support growth and the group incurred higher estimates for share-based senior management incentive charges largely due to the increase in share price in the period.
Retail revenues were up 11.7% to £736.6m, driven by a 11.9% increase in year-on-year orders per week to 291,000 largely through acquiring new customers.
The average basket at Ocado.com of £108.18 decreased slightly by 0.2% compared to the first half of last year, though active customers were up 12.8% to 679,000.
Ocado noted that the ongoing trend of ordering on mobile phones, resulting in customers ordering slightly smaller baskets more frequently, offset by price inflation
Its retail distribution and administrative costs increased by 13.4% year-on-year, while CFC costs increased from £55.1m to £65.8m, an increase of 19.4% year-on-year.
Revenues from its Ocado's Solutions businesses rose 16.8% to £63.3m, driven by its fees from Morrisons and also an element of upfront and design fees relating to existing and new international partnerships.
Distribution and administrative costs in the segment, predominantly fulfillment and delivery operation costs for the Morrisons business and the costs of employees working on partnership agreements, rose 21.2%. It posted an EBITDA loss from its solutions activities of £2m, down from a £400k EBITDA profit last year, due to continued investment.
Group wide capital expenditure rose from £74.2m to £101.6m in the year.
CEO Tim Steiner said: "This is a transformational period for Ocado. We have developed unique and proprietary technology to offer retailers an end-to-end operating solution for grocery retail that enables them to meet the changing needs of consumers. In the past six months we have partnered with some of the world's, biggest, best and most innovative retailers to help them redefine the shopping experience for their own customers. As a result, we are beginning to fulfil our ambition to change the way the world shops.
"In order to fully capitalise on the opportunities ahead of us, we are working at pace, investing more and focussing sharply on execution to bring on new capacity in the UK and to achieve successful outcomes for our partners. We are confident that we have the ability to scale-up the business, deliver on our commitments, drive sustainable growth and deliver value to all our stakeholders."
During the period it signed its third, fourth and fifth international partnerships with Sobeys, ICA and Kroger to develop the Ocado Smart Platform ("OSP") in Canada, Sweden and the United States respectively.
It added that the site for the first Groupe Casino Customer Fulfilment Centre has been identified, design completed, and construction is now underway.
Looking forward, Ocado said that, assuming economic conditions remain broadly stable, it expects retail revenue growth of between 10-15% in the 2018 financial year.
In the second half, Retail EBITDA will include the fixed costs of its largest ever CFC in Erith, but it also expects the trends in Retail EBITDA to improve significantly over the course of second half partly due to lower engineering costs per order and as the new capacity is utilised at both sites at increasing efficiencies
However, it expects a further decline in Solutions EBITDA as it makes a further £4m investment in its platform while it defers recognition of upfront fees over multiple years.
Ocado shares have dropped 5.3% to 958p so far this morning, having dropped as low as 935.8p soon after opening.
Morning update
Charles Wilson has stepped down as CEO of Tesco (TSCO) UK & Ireland due to illness and will be replaced by Jason Tarry.
Tesco announced this morning that, following an operation to remove his tonsils in April of this year, Wilson was diagnosed with throat cancer and that during May and June he has been undergoing daily radiotherapy.
"The good news is that Charles has responded very well to the treatment and all the signs are that the treatment has been successful," Tesco stated.
However, given the nature of the illness and "the need for Charles to remain vigilant in his recuperation" it has made a number of changes to its senior leadership team.
Wilson will step down as CEO Tesco UK & ROI and from the PLC board, but remain on the Tesco Executive Committee. He will focus on leading the Booker business, continuing to deliver the cost synergies and driving the growth agenda set out in the merger agreement.
Jason Tarry, currently group chief product officer, will become the CEO of the UK & ROI business and Andrew Yaxley, currently CEO Ireland, will be promoted to group chief product officer and join the Tesco executive committee. Both will report to Dave Lewis.
These changes will be effective from 16 July.
UK retail sales increased by 1.1% on a like-for-like basis and by 2.3% on a total basis in June as the hot weather and the World Cup boosted trading, according to the British Retail Consortium/KPMG retail sales monitor.
Over the three months to June, in-store sales of non-food items declined 1.4% on a total basis and 2.7% on a like-for-like basis, while food sales increased 0.3% on a like-for-like basis and 1.7% on a total basis over that period.
Over the three-months to June, non-food retail sales in the UK decreased 0.2% on a like-for-like basis and increased 0.8% on a total basis, while online sales of non-food products grew 8.5% in June, against a growth of 10.1% in June 2017.
Helen Dickinson, chief executive of the British Retail Consortium said: "Beer, barbeques and big TVs lifted June's sales as warm weather and world cup fever gripped the nation. However, with consumers engrossed in the agony and ecstasy of each match, spending on many other items fell. In the end, June scored solid, but not sensational, sales.
"The reality is that sales don't grow on the feel-good factor alone. With household incomes still barely growing faster than inflation, conditions for consumers and retailers remain extremely tough. And things could get tougher: once the euphoria of sporting success subsides, without a deal on Brexit, shoppers face the prospect of significant price increases and shortages of everyday goods. Even if England do go all the way, households may have little to celebrate come next April."
Paul Martin, head of retail at KPMG, cautioned: "After May's positive retail performance, June's results turned out to be less buoyant than hoped for. Sales growth remained in positive territory for the second month running at 2.3%, but as the recent financials of key players' highlights, sales growth and profitability don't always go hand-in-hand.
"Grocers benefitted from the brighter weather and of course the World Cup, with barbeques and picnics firmly on the menu, and the weather and holiday season are also likely to be behind the uptick in online fashion sales too. But with so much attention outdoors, other household categories didn't fare exceptionally well."
On the markets this morning, the FTSE 100 is up marginally at 7,692.4pts.
Tesco has fallen 1.4% to 256.3p on the news about Charles Wilson stepping back this morning.
Other fallers include C&C Group (CCR), down 1.3% to €3.42, British American Tobacco (BATS), down 0.9% to 3,922.5p and Cranswick (CWK), down 0.7% to 3,332p.
Risers include Applegreen (APGN), up 1.5% to 546p, PayPoint (PAY), up 1.2% to 974p and Just Eat (JE), up 0.7% to 846.2p.
Yesterday in the City
A dramatic day politically was welcomed by the City as the FTSE 100 closed up 0.9% at 7,688pts as the resignation of Foreign Secretary Boris Johnson was seen as a sign a soft Brexit was more likely to be agreed with the EU.
A number of FTSE 100 firms were boosted by the positive sentiment, including Marks & Spencer (MKS), up 1.6% to 312.3p, British American Tobacco (BATS), up 1.4% to 3,959.5p, Coca-Cola HBC (CCH), up 1.4% to 2,603p and Sainsbury's (SBRY), up 1% to 329.1p.
Other risers included under-pressure Premier Foods (PFD), up 3.1% to 42p, Nichols (NICL), up 2.5% to 1,450p, Just Eat (JE), up 2.4% to 840p, Greene King (GNK), up 2.3% to 566.8p, Greggs (GRG), up 1.7% to 1,000p and B&M European Value Retail (BME), up 1.6% to 411p.
The day's fallers included Hotel Chocolat (HOTC), down 4.2% to 375p, Pets at Home (PETS), down 3.3% to 127.4p, Majestic Wine (WINE), down 2.3% to 465p, Science in Sport (SIS), down 2% to 75.5p and McColl's (MCLS), down 1.2% to 212.5p.