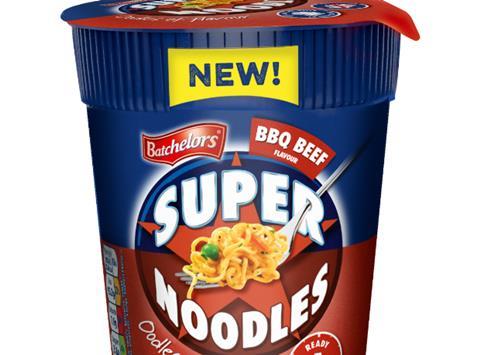 Top story
Premier Foods (PFD) has denied it is in talks to sell its Batchelors noodles brand to Nissin Foods after media reports emerged over the weekend revealing a potential deal.
The Sunday Times reported that Premier was understood to be exploring a £200m deal for Batchelors with the Japanese group, which is also the biggest shareholder in the listed supplier.
The move could trigger a gradual break-up of the debt-laden business, the paper added.
Premier responded with a short statement to the stock exchange this morning noting the "press speculation".
The group said it had made no changes to its strategy since the strategic update in its annual results on 16 May 2017.
"The board remains focussed on our strategic objectives, including that of reducing the ratio of net debt to EBITDA below three times," Premier said.
"On 29 June 2017 the company confirmed that, in line with good corporate governance, it regularly reviews options to deliver value for all its stakeholders. Such reviews do periodically involve discussions with third parties, including Nissin (with whom the company signed a co-operation agreement on 23 March 2016). There is no current situation where discussions have gone beyond an exploratory stage.
"As a matter of normal good governance, the board continues to keep under review any options which could potentially add value for shareholders and other stakeholders, and accelerate the delivery of the board's strategic objectives, particularly with respect to reducing gearing."
Shares in Premier opened 2.8% higher to 42.5p this morning on the back of the news.
Premier CEO Gavin Darby has been under pressure to turnaround the ailing group since he fought off an attempted takeover bid by US group McCormick in 2016. He turned down the 65p a share offer in favour of a partnership with Nissin, which has since built a stake of more than 20% stake in the business.
However, Darby was forced to cut his medium term growth targets last year as sales continued to slump and a profits warning was issued – although there was some relief toward the end of the year when Premier reported better-than-expected second quarter results.
Morning update
Footfall on the high street slumped in December as shoppers turned to the internet for their Christmas shopping, according to the latest BRC-Springboard survey.
Year-on-year December footfall decreased sharply by 3.5%, the biggest decline since March 2013 when it dropped by 5.2%, the footfall and vacancies monitor showed. The December monthly year-on-year figure was significantly below the three-month rolling average of -1.9% and the twelve-month rolling average of -0.7%.
All regions showed a drop in footfall for December, the sharpest reductions being experienced by Scotland (4.7%), South West (5.2%) and Greater London (3.7%).
Of the three shopping locations (high street, retail parks and shopping centres), only retail parks saw two regions showing growth: South East (0.9%) and West Midlands (0.1%).
BRC chief executive Helen Dickinson said: "The sharp drop in footfall this December, while sales grew overall, underlines how shopping is being transformed by the shift to online.
"In the past, shoppers would have exclusively visited physical stores to ensure stockings were filled for Christmas. Improved delivery options by both purely digital retailers and those with stores and an online offer mean many purchases of last minute gifts are moving online.
"The squeeze on discretionary spending also contributed to the decline in footfall. Households had to use their money more carefully, researching products online, rather than heading out to stores to browse.
"Retail parks fared slightly better than high streets by providing Christmas shoppers with the draw and convenience of parking, easy click-and-collect, and leisure facilities."
Diane Wehrle, Springboard marketing and insights director, added: "The drop in footfall of -3.3% in the weeks leading up to Christmas provided a heads up for December, with the final outcome of -3.5% of little surprise.
"The poor non-food LFL in-store sales growth clearly reflects the more severe drop in footfall during retail trading hours in December.
"Moving forward into 2018, it is apparent that retailers need to focus on maximising conversion via the core deliverable of best product and customer service with an improved in-store experience, whilst holding their nerve and resisting discounting too early and so protecting margin."
This week in the City
Things have calmed down considerably from last week's flurry of retail Christmas updates.
Tomorrow things kick off with a final quarter update from bakery chain Greggs and Premier Foods will unveil its third quarter figures (and have chance to further expand on the press speculation of a Batchelors sale).
Hotel Chocolat will give a flavour of how it performed over the festive period on Wednesday.
Thursday is looking fairly busy as Primark owner Associated British Foods steps up to the plate, along with a maiden update from Bakkavor and a statement from Costa owner Whitbread.
On the wider high street this week also brings statements from JD Sports, Burberry, Halford, Bonmarche and Pets at Home.