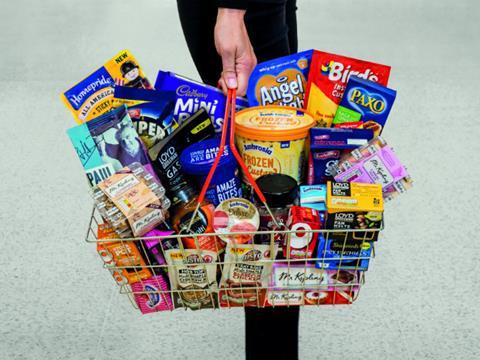 Top story
Premier Foods (PFD) has issued a profits warning this morning, despite a strong December, as sales remained weak in the third quarter and costs spiralled following the slump in sterling.
Group revenues fell 1% to £251.4m in the 13 weeks to 31 December, despite a 4.5% jump in the final month of the year as a number of brands returned to growth in the festive trading period.
CEO Gavin Darby said conditions were expected to remain challenging in the fourth quarter and that full-year sales would be lower than expected.
Premier warned that trading profits for the year would be about 10% lower than previously guided as a result.
Shares in the supplier have crashed 15.1% to 40.8p as the markets opened and the City reacts to the profits warning.
Premier admitted to exploring "limited price increases" where it could not mitigate cost increases in commodities such as sugar, chocolate, dairy, wheat and palm oil. The group announced it is launching a cost-cutting drive in response.
"Sales in our third quarter were weaker than expected despite a strong December," Darby said. "We now expect category performance to remain challenging during the fourth quarter and as a result sales will be below previous expectations.
"Additionally, recovery of significant input cost inflation in certain areas is taking longer than originally foreseen. Consequently, we now expect trading profit for FY16/17 to be approximately 10% below previous expectations."
"Six out of eight of our major brands gained volume and value market share in the quarter although our categories were generally softer due to changes in retailer promotion strategies."
Premier added: "The group is experiencing material input cost inflation, notably in commodities such as sugar, chocolate, dairy, wheat and palm oil. Input costs have also been driven up by currency devaluation. We take a blended approach to managing these cost increases, managing our own efficiencies, adjusting promotional mechanics and formats where appropriate and finally looking at limited price increases where these cannot be avoided."
The supplier is launching an efficiency programme in response to claw back margins, with the aim of saving £10m from 2017/18 and an unspecified amount the following year.
"This programme will support the company's twin goals of delivering trading profit and free cash flow while investing in innovation and consumer marketing," Darby added.
Branded sales were 3.8% lower in the third quarter and non-branded delivered growth of 11.6%, helping group volumes increase 3.4%.
Darby blamed a reduction in multi-buy promotions in the supermarkets for a 1.9% fall in sales in the grocery division as volumes slipped, with branded sales down 3.8%. Sales in sweet treats increased by 1% in the quarter, with branded 3.4% lower while non-branded rose by 10.3%.
Total international sales grew by almost 15% in the quarter following another strong performance in Australia, notably with the Mr Kipling and Cadbury cake ranges.
Premier also confirmed it will be distributing the first Nissin branded products in the next few weeks, with Soba noodles pots to hit supermarket shelves from February, followed by the new Batchelors Super Noodles Pot, which is expected to launch earlier than expected, also from February.
Morning update
Shoppers expect to curb spending in all areas in 2017 as the price of groceries looks set to rise, according to PwC. A quarter of British consumers expect to be better off in 2017 than they were last year as sentiment remains positive, but pressured families are starting to feel the pinch, the firm's latest consumer sentiment survey found. It is marginally up on previous surveys in 2016 and 2015, where 21% and 22% respectively expected to be better off over the following 12 months. Although, 26% of respondents expect to be worse off in 12 months' time than they are today. PwC surveyed more than 2,000 consumers across England, Scotland and Wales and found that issues like pay and the national living wage were encouraging a feel-good factor, while worries over the economy tended to have the opposite effect.
Partner Lisa Hooker said: "The survey also breaks down where consumers expect their spending to be directed over the coming year. On balance, consumers expect to spend less on almost all areas of outgoings, from holidays and going out to clothing and household goods. The only category where they expect to spend more is on groceries, although the main reason for this is higher prices, cited by 81% of those expecting to spend more. This will set a challenge for retailers and leisure operators across different categories who will need to adapt their strategies in order to encourage consumers to keep spending with them, even if they plan to buy less overall."
Yesterday in the City
The FTSE 100 faltered for a second day in a row following its record-breaking run after Prime Minister Theresa May revealed the UK would leave the single market when it exits the EU and confirmed parliament would get a vote on the new deal. The blue-chip index slumped 107 points (1.5%), accelerating losses as the PM gave her speech. Sterling surged, however, by close to 3% against the dollar – its best day since 2008.
Hotel Chocolat (HOTC) closed the day flat at 295p after recovering from some falls throughout trading. The chocolate retailer reported a 16.2% jump in sales in the 13 weeks to 25 December as customers spent more money on higher priced gifts for Christmas.
Greggs (GRG) fared better after its trading update, with shares closing 1.2% higher at 1,013p – although the price was more than 3% up in early going.
Science in Sport (SIS) leapt 7.5% to 83.9p after it announced it had launched a new banned substance testing regime, which prevents banned substances such as steroids from entering its supply chain and finished products.
Mark & Spencer (MKS) and Sainsbury's (SBRY) were also among the day's risers, up 1.4% to 347.2p and 0.7% to 264.9p respectively.
British American Tobacco (BAT) slumped 4% to 4,570.5p as investors reacted to news it had agreed a £41bn deal to take over rival cigarette maker Reynolds. Imperial Brands (IMB) was also down 3% to 3,526p.
Other FTSE 100 firms hurt by the dip in the index included Diageo (DGE), down 2.9%, Reckitt Benckiser (RB), down 2.5%, and Unilever (ULVR), down 2.3%.