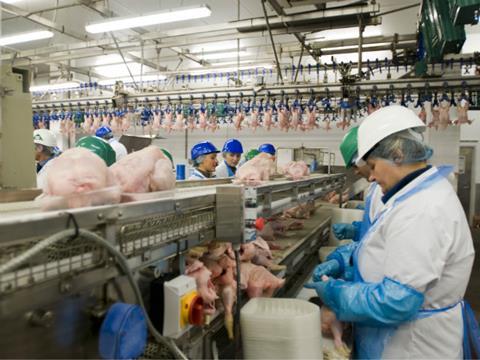 Top story
Like-for-like sales at 2 Sisters Food Group have increased 0.4% to £800.1m in the second quarter as its new investment strategy started to pay off.
Operating profits in the 13 weeks ended 30 January rose more than £26m from a loss of £4.3m in the same quarter a year ago to £22.1m. Pre-tax profits also jumped from a loss of £7.6m, as the business went through heavy restructuring, to £20.3m.
Total sales for the period were down 0.6% to £792m compared with a year ago but were better than the £778.3m recorded in quarter one.
CEO Ranjit Singh said: "In this quarter we are seeing signs of our strategy to build a better business starting to deliver. I am pleased to report that the progress we experienced in previous quarters continues with improved performances in like-for-like sales and operating profit, despite the fragile grocery market.
"There have been important successes throughout our business with new wins and new product development, with notable achievements across our divisions."
Like-for-like sales in the protein business, where it is investing £150m in poultry, were broadly flat at £530.7m but profits had transformed from a loss of £7.7m to +£7.1m.
The chilled business generated an increase in like-for-like sales by 0.8% to £165.7m driven by record Christmas volumes and new product launches.
In branded, sales rose 4% to £103.7m and operating profit increased from £10.5m to £11.3m, with market share for Fox's Biscuits growing 1.5% over the Christmas period thanks to brand extensions.
"We have the right strategy in place to deliver and help counter the headwinds that we face from factors we cannot control," Singh added. "A relentless commitment to great food, innovation and efficiency, and great relationships with our major suppliers and customers are helping us to succeed. Our focus on costs, efficiency, investment, innovation and deepening customer relationships will remain paramount."
Morning update
Finsbury Food Group (FIF) has posted a 46% rise in group revenues to £156.6m in the first half and a 78% jump in operating profits to £8m as its acquisitions of Fletchers bedded in. The speciality bakery manufacturer also managed a 7.4% sales increase on a like-for-like basis, and a 21% hike in like-for-like profits in the 26 weeks ended 26 December. Profit before tax of £7.5m was up 84% and up 22% on a like-for-like basis.
CEO John Duffy said: "We are very pleased to once again be reporting a strong first half performance, with our organic growth being supplemented by the acquisition of Fletchers and Johnstone's. Alongside this growth, our capital investment strategy, together with our continued efficiency programme has resulted in improved operating margins.
"Despite operating in a challenging market, we have created a group that is well positioned to flourish in an improving environment and we look forward to benefitting from increased consumer confidence. Having built solid foundations and implemented a robust growth strategy that aims to create sustainable value for our stakeholders, we look forward to driving further growth both organically and through strategic M&A."
Shares in the group have risen 2.6% to 109.3p so far this morning.
Premier Foods (PFD) has appointed Jette Andersen as managing director of its international business. The supplier said the appointment reflected the increasing importance of international markets to its growth strategy. Andersen, who will report directly to CEO Gavin Darby, has previously held a number of senior positions in the food and drink sector in the past 20 years. She joins from Orangina Schweppes International, a division of Suntory Food & Beverage Europe, where she held several senior management positions based in Copenhagen, Zurich and Amsterdam.
Darby said: "Growing our brands in key international markets such as North America and Australasia is a key part of our growth strategy. Over the last year we've been strengthening our international team, and I'm delighted that Jette has joined us at this critical time. Her experience will be invaluable as we seek to expand into new markets."
Delhaize and Ahold has been given clearance by the Belgian Competition Authority for the proposed merger of the two European food retailers. It follows the shareholders of both companies voting in favour of the deal earlier this week and leaves just US regulatory clearance as the final hurdle. Delhaize and Ahold must sell a limited number of stores to address competition concerns raised by the BCA as part of the green light.
Waitrose sales in week six to 12 March fell 3% to £124.2m after Mothering Sunday fell a week earlier than the previous year. The retailer said Waitrose.com continued to show strong growth, with total orders up 7.5% on last year.
DekelOil has refinanced the loan being used to fund the construction of an extraction mill in the Ivory Coast. The business said the move would result in a significant reduction in interest costs and have a positive impact on profitability in 2016 and beyond. DekelOil now has a new seven year €9.2m loan with interest payable at a rate of 7% to replace the €8.7m loan. DekelOil executive director Lincoln Moore said: "The refinancing of this loan on such improved terms provides third-party validation of how far DekelOil has come operationally in a short space of time."
Yesterday in the City
Ocado (OCDO) shares fizzed by more than 8% in early trading after the online grocer reported double-digit growth in its first quarter. Group sales climbed 15.3% to £312.4m in the 12 weeks to 21 February and retail sales – excluding the Morrisons agreement – rose 13.8% to £286.7m. The stock settled down in the afternoon to finish 3.4% higher than yesterday at 270.4p.
Sainsbury's (SBRY) didn't fare quite so well after posting its first sales rise in two years. Like-for-like sales crept up 0.1% in the fourth quarter but it wasn't enough to stop shares falling 1.1% to 277.6p. Despite recent rises, the decline won't be welcome – in light of the cash-and-shares offer – ahead of Friday's 'put-up-or-shut-up' deadline for an improved offer for Argos owner Home Retail Group.
Tesco (TSCO) and Morrisons (MRW) also feel yesterday by 1.2% to 190.9p and 0.1% to 199.4p respectively.
Other fallers included Finsbury Food Group (FIF), which was down 3.6% to 106p ahead of this morning's half-year results. Nichols (NICL) was also down 3.1% to 1,301p, Premier Foods (PFD) fell 2.7% to 31.1p and Carrefour (CA) was behind 2.1% to €24.
The FTSE 100 also finished the day 0.6% down at 6, 140 points ahead of the Budget today as mining stocks slumped.
Fever-Tree (FEVR) solidified good gains yesterday after stellar results with another rise of 7% to 635p – meaning the stock is up 14% since Friday morning.