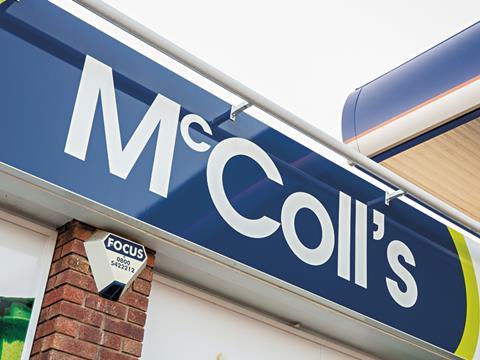 Top story
McColl's Retail Group (MCLS) has reported a 1.8% rise in total sales in the 13 weeks to 28 August, but a 1.8% dip in like-for-like sales as revenues dropped in standard convenience stores and newsagents.
Total like for like sales are down 2% year-to-date, with sales in newsagents and standard convenience stores are now down 3.7% year to date as a result of continued pressure on traditional categories.
Like for like sales held up better in food and wine and premium convenience stores as McColl's continues to upgrade its estate. LFL sales in premium convenience and food and wine stores down 1.2%, while LFL sales in recently acquired and converted stores is up 1% year-to-date.
McColl's is continuing to expand through acquisition, with 36 new convenience stores acquired during the quarter. Store base at period end comprised 953 convenience stores and 417 newsagents.
It is growing its convenience product range with 32 food and wine conversions completed, eight Subway outlets now in operation and 28 food to go modules rolled out.
It reached 555 Post Offices by the end of Q3 and we now also have 183 Amazon lockers across the estate.
Jonathan Miller, chief executive, said: "2016 continues to be a year of significant progress in delivering our convenience strategy. This was particularly demonstrated by our transformational acquisition of 298 convenience stores from The Co-op announced on 13 July 2016. We are making good progress with the approvals and our preparations ahead of the transition of these stores during 2017.
Our total sales this quarter were up year on year by 1.8%, fuelled by our investment programme. Like for like sales were down by 1.8%, marking a slight improvement on the year to date trend. As a business we remain focussed on the key elements of our clear strategy: to increase market share, grow our convenience product range and deliver great customer service, which we are confident will cement our position as a leading neighbourhood retailer.
We continue to be on track to deliver results in line with the Board's expectations for the financial year, alongside reaching 1,000 convenience stores by the end of the calendar year."
The City has reacted well the this morning's statement, sending the shares up 2% to 169.3p so far this morning.
Morning update
McColl's apart there's little else out there of note in the City this morning.
Yesterday there were more signs that Britons may be tightening their belts post-Brexit as UK new mortgage approvals dropped to an 18-month low in July and the rise in consumer borrowing slowed to its lowest rate in over a year. However, Nationwide found that house prices still edged up 0.6% in the month on low volumes.
The good weather helped Waitrose record 1.2% ex-petrol sales growth in the week ending 13 August, with summer foods such as rosé wines, barbecue meats and ice cream recording double-digit rises.
The FTSE 100 has bounced back 0.6% to 6,822.9pts so far this morning, with most major grocery stocks on the up.
Major early risers include Associated British Foods (ABF), up 1.5% to 3,086p, Sainsbury's (SBRY), up 1.1% to 243p, Coca-Cola HBC (CCH), up 0.9% to 1,689p and Tesco (TSCO), down 0.9% to 167.7p.
Also on the up are Majestic Wine (WINE), up 2.2% to 433.1p, McBride (MCB), up 1.8% to 157p and Greggs (GRG) up 1.5% to 1,053p.
Among the few fallers are Hilton Food Group (HFG), down 3% to 575.5p, Glanbia (GLB), down 2% to €17.13 and Hotel Chocolat (HOTC), down 1.2% to 205p.
Yesterday in the City
The FTSE 100 fell back 0.6% to 6,781.5pts yesterday.
It was a mixed day for the supermarkets, which were all down in early trading but Tesco (TSCO) recovered to gain 1.9% to move to 166.4p to eventually end the day as one of the FTSE's top risers.
Morrisons (MRW) dropped almost 3% in early trading, but also recovered despite a downgrade to "sell" from Goldman Sachs to drop just 0.2% to 197p.
Ahead of its official absorption of Home Retail Group tomorrow Sainsbury's (SBRY) fell 1% to 240.3p.
Elsewhere, Marks & Spencer (MKS) was up 1.1% to 344.7p, but most other major grocery/fmcg stocks ended the day in the red.
Greencore (GNC) ended the day 2.2% down to 351p, Dairy Crest (DCG) 1.9% down to 656.5p, Cranswick (CWK) 1.6% down to 2,390p, Booker (BOK) 1.3% down to 176.1p and PZ Cussons 1.2% down to 335p.
Amongst companies with smaller market caps, Hilton Food Group (HFG) was up 3.1% to 593.5p and Finsbury Food Group (FIF) up 1.6% to 127.5p. CARR's Group (CARR) was down 3% to 145p and Majestic Wine (WINE) fell back 2.4% to 424p.