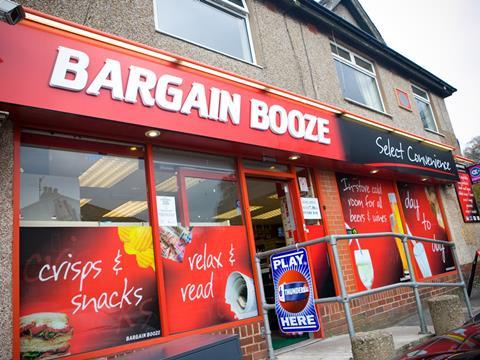 Shares in Bargain Booze owner Conviviality () have plunged by more than two-thirds after the alcohol retailer and wholesaler issued a shock profits warning.
Yesterday afternoon the Bargain Booze and Matthew Clark owner announced it had made a "material error" in its financial forecasts, which means its for the current year will be £5. lower than previously guided – a cut of around 20%.
Conviviality stated: "Whilst our sales and orders have held up at levels ahead of last year, demonstrating that our one stop shop model is working, margins in Conviviality Direct have softened across January and February."
Its revised guidance assumed this margin weakness will continue for the rest of its financial year to 29 April 2018.
The company attempted to reassure investors that "a number of enhanced controls and disciplines" have been introduced to address this issue and it had "not seen any material weakness in overall demand".
However, its share price plunged on the announcement, falling 59.2% in the 90 minutes before markets closed last night to just .
That fall has continued this morn, with another 18.9% being slashed off its share price to take its shares to under .
In total, over £375m has been wiped off the company's value in less than 24 hours, cutting its market cap down to just £183m.
Conviviality was trading at at the start of 2018, but the shares had already dipped below by the end of January after it warned of squeezed margins as it sought out greater market share.
Shore Capital has downgraded the stock from buy to hold this morning.
The broker stated: "The magnitude of the downgrade, the reasons and the timing given the year end is only 6-7 weeks away has damaged management credibility." It also pointed to "gaps in financial expertise" amongst senior management and an insufficient level of non-exec director oversight.
However, Shore added: "We have not downgraded to a sell recommendation because we see the problems behind the profit warning as fixable. Furthermore, we believe the business model works and remains relevant. The group commands a strong route to market so has value, in our view, with the potential to generate more value in the future. The, we see the group as attractive to potential suitors."
As a show of faith in the prospects of the group, CEO Diane Hunter has bought 44,176 ordinary at a price of each since the profits warning.
Conviviality will issue a pre-close update on 27 March 2018.