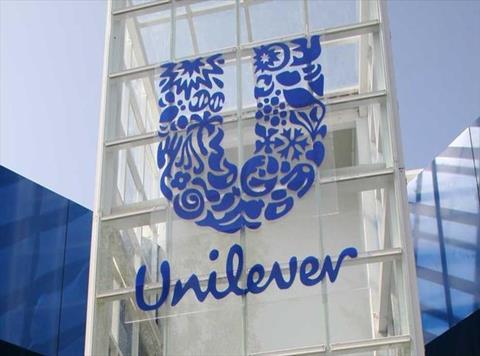 Top story
Consumer goods giant Unilever (ULVR) has increased full-year sales and profits despite operating in "challenging" market conditions in 2017.
The owner of Hellman's, Knorr and Persil revealed this morning that operating profits for the year were up 13.5% to €8.9bn (£7.8bn) and pre-tax profits rose 9.2% to €8.2bn.
Underlying sales growth came in at 3.1% (3.5% excluding the now sold spreads business), with turnover nudging up 1.9% to €53.7bn (£46.9bn).
During the final quarter of 2017, underlying growth increased 4% but turnover slowed, registering a 1.6% decline as a result of currency headwinds.
"We have delivered a good all-round performance with competitive growth, including an innovation-led improvement in volumes in the fourth quarter, and substantially increased margin, earnings and cash flow," CEO Paul Polman said.
"This puts us well on track to deliver towards the strategic objectives set out for 2020 and demonstrates the progress we have made in transforming Unilever into a more resilient and more agile business."
However, Unilever warned that overall market conditions "remained challenging in 2017", with volumes in the markets in which it operated growing at less than 1%. But, it added, there were some early signs of improving conditions in emerging markets.
Underlying sales growth across its major categories were: +2.9% in personal care, +4.4% in home care, +1% in food and +4.9% in refreshment.
Unilever added that innovations behind its premium ice cream brands performed well, driving the performance of its refreshments segment. These included Magnum pints and double raspberry and coconut variants, which contributed to double-digit growth at brand level. And Breyers delights' low-calorie, high-protein variants, launched to compete with Halo Top, which had "a promising start".
"2017 has once more been a year of major change for Unilever with the acceleration of the 'Connected 4 Growth' programme that we announced in 2016," Polman said.
"With the implementation of a more agile, consumer-facing organisation, we are seeing quality and speed of innovation further improve. At the same time, we have significantly stepped up the delivery from our savings programmes and continued the evolution of our portfolio with 11 acquisitions announced and completed in the year as well as the announcement of the disposal of the spreads business. All of this is making Unilever increasingly competitive in light of fast-changing consumer and technology trends.
"Our priorities for 2018 are to grow volumes ahead of our markets, maintain strong delivery from our savings programmes and to complete the integration of Foods & Refreshment as well as the exit from spreads. We expect this will translate into another year of underlying sales growth in the 3% - 5% range, and an improvement in underlying operating margin and cash flow, that keeps us on track for the 2020 targets."
Shares in Unilever nudged up 0.1% to 4,002p as markets opened this morning.
Morning update
Listed fresh group Total Produce (TOT) has agreed to acquire a 45% stake in banana giant Dole Food Company for $300m (£211.5m). The deal will create the world's leading fruit & vegetables group, a joint statement from the businesses said this morning.
Dole is one of the world's largest fresh produce companies, holding #1 and #3 positions in bananas in North America and Europe, and #2 and #3 positions in pineapples in North America and Europe, and #2 position in fresh-cut salads in North America.
It generated EBITDA of $237m (£167.1m) on revenues of $4.5bn (£3.2bn) in the year ended 7 October 2017.
The acquisition of the $300m stake values Dole at about $2bn (£1.4bn) – 9x adjusted EBITDA.
Total Produce added that the transaction represented "a very significant step" in its history and a continuation of its expansion strategy.
"We are delighted to have signed an agreement with Dole, long held in the highest regard as one of the world's best fresh produce companies, with iconic brands dating back to 1851," said Total Produce chairman Carl McCann.
"We are particularly pleased to be partnering with David Murdock who has been an inspirational and visionary leader since he acquired a majority shareholding in Dole in 1985.
"We are greatly honoured that David, a good friend of my late father Neil, my predecessor as chairman, has chosen Total Produce to be his partner. I look forward with great enthusiasm to working very closely together with David and his superb management team to continue to expand the business in the future.
"I believe that this investment by Total Produce in Dole is the single most positive step in our company's history. It places Total Produce at the forefront of our industry, and we anticipate it will create significant additional value for shareholders in the years ahead."
The Dole management team will continue to operate the business as before, with McCann becoming vice chairman.
Dole owner and chairman David Murdock added: "With great pride I announce the creation of a new partnership between Dole Food Company and Total Produce.
"For many years I have cherished my friendship with the McCann Family, and I know that my late friend Neil McCann would be so proud to see his son Carl McCann completing this strategic partnership between our two companies.
"Both Dole and Total Produce have a standard of perfection that leads the industry in innovation, together we will further our joint mission of providing the highest quality produce to the world."
Total Produce also announced a placing to raise approximately $150m to help fund the deal.
Sales at Irn-Bru maker AG Barr (BAG) fizzed 7.5% higher to £277m in the year ended 27 January 2018 as its reformulated range in response to the sugar tax proved a hit with consumers.
The pre-close trading update said that the positive revenue performance reflected the continued success of its innovation alongside strong trading execution across core brands, such as Irn-Bru, Rubicon and Funkin.
"It is pleasing that we have continued to outperform the total UK soft drinks market and increased our overall market share," the Scottish group added.
AG Barr also said it now expected up to 99% of its portfolio will contain less than 5g of sugar per 100ml before the implementation of the soft drinks sugar tax in April this year – an increase from 90% announced in March 2017.
The group added that early consumer response to its recipe change to reduce sugar in Irn-Bru had been "encouraging".
However, it warned it had not been immune to the external cost pressures faced by many businesses throughout 2017, particularly in relation to the weakness of sterling. Profits, however, would be in line with expectations.
"It is expected that 2018 will be another challenging year for UK businesses against a backdrop of continued uncertain economic conditions," AG Barr said.
"In addition the soft drinks industry faces significant changes in regulation, customer dynamics and consumer preferences, bringing both challenges and opportunities.
"We believe that our strong and flexible business model, our portfolio of brands which reflect the requirements of today's consumer, and our exciting innovation pipeline, ensure we remain well placed to capitalise on opportunities to grow our business and deliver long-term value to shareholders."
Shares in the business are up 1.3% to 650p so far today.
Trading at Cranswick (CWK) beat expectations in the final quarter of 2017 as the pork and poultry processor logged a strong Christmas performance.
Total and like-for-like revenue in the group's third quarter were both ahead of the prior year, a trading update said.
Each of the group's categories delivered positive volume growth, underpinned by a strong performance over the key Christmas trading period. Total export sales were also well ahead.
The UK pig price continued to ease during the period, ending the quarter at a similar level to that of a year earlier. This downward trend is being reflected in selling prices, Cranswick said.
"With experienced management at all levels of the group, a strong range of products, a well-invested asset base and a robust financial position, the board is confident in both the prospects for the remainder of the current financial year and the continued long-term success and development of the business," the group added.
The Cranswick share price jumped 3.5% to 3,040p on the announcement.
Beleaguered Real Good Food (RGD) snuck out a trading update yesterday afternoon warning that EBITDA losses for the year would total £3.5m after a weak Christmas. The group, which posted several profits warnings last year and jettisoned its management team, said sales during the early part of the Christmas trading quarter were "largely satisfactory".
However, the performance in the last few weeks of the year were "materially below the company's expectations", largely owing to disappointing performance in UK grocery retail and de-stocking in overseas markets.
"In addition, the board is currently undertaking a review of the various balance sheets of the group companies to ensure that their accounting treatments are consistent across the group and accord with good practice," Real Good Food said.
As a result of this review and of a reforecast exercise within all the operating businesses, allied to the poorer than expected trading late in 2017 and early in 2018, the company now expects the outturn for the year to be an EBITDA loss of up to £3.5m.
"Looking more widely at the prospects for the company, there are clear signs that the considerable investment made throughout the group in the past 18 months is beginning to yield benefits," it added.
"A turnaround plan has been formulated and is now in the process of being implemented by the new management team to reverse the negative performance trend and to begin to deliver the sort of returns that investors should more reasonably expect over the medium term."
Yesterday in the City
Shares in Britvic (BVIC) lost their fizz yesterday despite the drinks group reporting a "solid start" to the year. It increased revenues in the first quarter by 3.3% to £337.2m as Pepsi Max helped its carbonates division outperform the soft drinks market in the UK, but sales of its range of still products slumped 6.6%. The group also warned of rising costs and one-off charges related to redundancies at closing factories and the collapse of wholesaler Palmer & Harvey. The stock fell 6.8% to 730.5p.
By contrast Dairy Crest (DCG) soared 5.1% to 588.5p as it reported that sales in the first nine months of the financial year had grown 7%, with all its brands doing well. It also said that cream prices, which had leapt last year, were beginning to soften, with Country Life promotional activity to pick up in 2018.
Unilever made gains of 0.2% to 3,991p ahead of its preliminary results this morning.
Ocado (OCDO) was among the risers, up 2.4% to 503p, and PZ Cussons (PZC) clawed back some of Tuesday's losses to climb 0.6% to 313.4p.
Fallers included Cranswick (CWK), down 2.6% to 2,934p, Coca-Cola HBC (CCH), down 2.3% to 2,369p, and Sainsbury's (SBRY), down 2% to 251.9p.