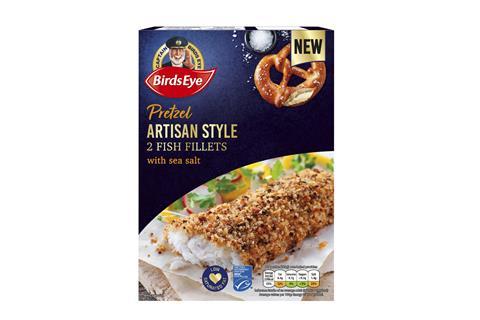 Birds Eye is to expand its premium frozen fish offering with a new "bakery-inspired" breaded fillet range.
Artisan Style, which will consist of three Alaska pollock SKUs, will be aimed primarily at families, with the frozen giant saying it will offer consumers a "sophisticated" option for their meal times.
The new range's variants include German Pretzel Crumb with Sea Salt; Sourdough Breadcrumb with Spelt Seeds; and Wholemeal Breadcrumb with Seeds & Grains, all of which will be available in Morrisons from 7 October (rsp: £3/250g). It will then roll into Sainsbury's from 27 October.
"With these new launches, we hope to really elevate the frozen fish category, providing premium, real food that has a unique twist and will inspire more shoppers to add more fish to their diets," said Birds Eye marketing director Steve Challouma, who is to become the firm's general manager in January 2020.
"We're excited to not only provide a premium touch to shoppers' meal times, but also help to excite their taste buds in a sophisticated manner."
The NPD is the first since Birds Eye's announcement in August that its entire fish range had become both MSC and ASC-certified.