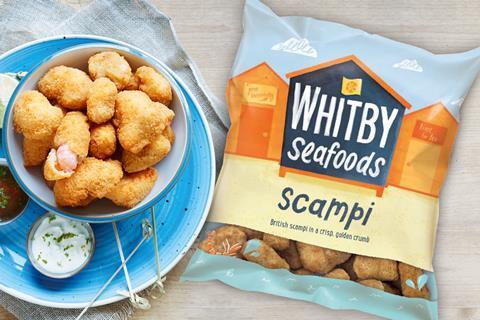 Whitby Seafoods has seen a surge in demand for its frozen products over the past two weeks amid coronavirus panic buying.
The Yorkshire-based scampi specialist said week-on-week sales of key frozen lines such as breaded scampi tails jumped by as much as 100% last week. It supplied more than one million scampi portions in total to its customers.
The processor, which supplies scampi to Tesco, Aldi, Lidl, Sainsbury's, Asda and Morrisons, said sales would have been even higher had it been able to replenish freezers sufficiently. Some of its retail partners had also asked the company to increase stock holding and production.
Whitby had now employed a specialist merchandising agency to help support its supermarket customers in getting more stock into stores, said sales and marketing director Laura Whittle. The supplier had also recently invested in doubling production in order to meet demand, she added.
Many large pub groups had also placed "massive orders", despite the uncertainty facing the foodservice channel, Whittle said.
"We had heard about shoppers stockpiling toilet roll and cupboard staples but were surprised to hear from our retail customers that sales of scampi were at their highest level in years as their shoppers were clearing shelves. Luckily, fishing is good and we have lots of capacity."
The crisis was also bringing new people into the frozen aisle, Whittle suggested. "Many will be surprised at the amount of choice and quality, and how the category has moved on in recent years."
Sales of the brand's fishcakes and calamari had not grown at similar levels, she pointed out, suggesting shoppers valued the British provenance of scampi in particular.
As part of preparations to mitigate the risk of the coronavirus pandemic, the supplier had banned off-site meetings and supplier visits to its manufacturing plant, and was expected to roll out off-site working for staff where possible over the coming days, Whittle said.