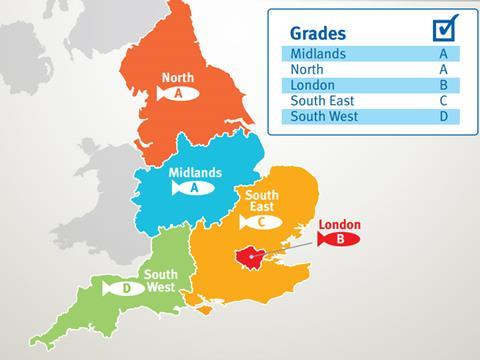 Just 14% of England's 4.3 million primary school children are currently being supplied with sustainably sourced fish, research by the Marine Stewardship Council (MSC) has revealed.
Despite the Department for Education implementing new school food standards from January 2015 – which will recommend that schools "choose fish from verifiably sustainable sources and ideally MSC" – the research found that 86% of pupils were currently missing out.
The study, dubbed 'MSC's End of Term' report, also revealed significant regional discrepancies, with children in the North and Midlands making up 60.6% of all schools serving certified sustainable fish in their canteens.
It gave the North and the Midlands "A grades", with London scoring a "B grade" for supplying pupils with sustainable fish.
The Southeast of England could only pick up a "C grade", while the Southwest, a region synonymous with the fishing industry, earned up a "D grade" due to a lack of participating schools.
The report also revealed that schools spent an estimated £43m on fish each year.
MSC UK senior country manager Toby Middleton applauded the work done by some of England's 156 local education authorities (LEAs) to supply sustainably caught fish to pupils, but warned that a significant majority was "missing an opportunity to celebrate more sustainability".
"We would encourage more LEAs to take up the government guidelines and join the growing community of MSC-certified schools," he said.
"We hope that by the time we run these numbers again, more will have made the grade."