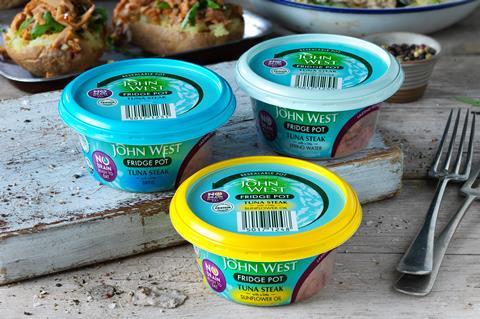 Canned fish giant John West's sales fell by almost 16% last year as Brits lost their appetite for tuna - but profits surged by nearly £10m.

Turnover dropped from £221.2m in 2017 to £186.4m for the year to 31 December 2018, according to accounts filed at Companies House.

This decline was partly driven by a drop in the total canned fish market, said a spokeswoman, with branded canned fish volumes down 8.1% last year [The Grocer Top Products 2018/Nielsen].

"John West, like all others in the sector, felt the pain of this - people are simply not buying as much canned tuna as in previous years," she added.

However, the brand's pre-tax profits rose by 601.6%, from £1.7m in 2017 to £11.6m last year.

Some of this sharp increase in profit could be explained by a standardisation in accounting practices across John West parent Thai Union's businesses, said the John West spokeswoman.

This meant less profit was reported at Thai Union's production units, with more allocated to each of its brands.

But the brand also improved its profitability by "reducing sales of low margin and loss-making products", according to its annual report, with gross margin increasing from 8.1% to 15.2%.

"In the face of a difficult market, we have been working hard to make the business as efficient as it can be," said the spokeswoman.

However, foreign exchange rates "were an issue in 2018 and with sterling still so weak are likely to have an impact well into 2020", she added.