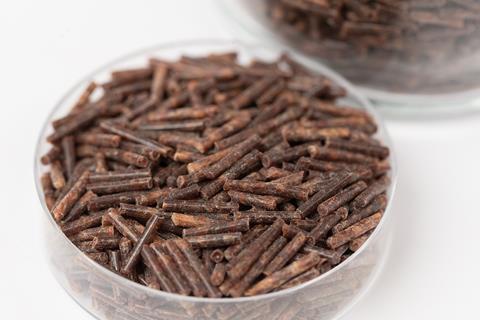 John West owner Thai Union has partnered with animal feed producer Calysta for the first commercial use of its sustainable and traceable Feedkind alternative protein.
Delegates at the 2019 Seafood Expo Global in Brussels were today offered pan-fried shrimp fed with marine ingredients derived from Thai Union tuna byproducts and Feedkind – which is created by fermenting natural gas with naturally occurring microbes found in soils, in a process similar to making yeast.
The alternative protein offered shrimp farmers the opportunity to "increase their output to meet growing global demand without putting extra pressure on the planet's resources", Calysta said. It is designed to replace fishmeal from wild fish used for protein in shrimp feed.
As a result of its manufacturing process, the product – which is made at a Calysta factory in Teeside – was created using very little land and water, and was a "safe, nutritious and price-competitive protein which has been commercially validated through extensive trials", it added.
Feedkind also contained a unique carbon signature that allowed food manufacturers to provide traceability and integrity to its supply chain, the California-based company said.
Improving traceability in feed supply chains was a significant goal as fishing activities associated with the production of fishmeal for feed had previously been associated with unsustainable practices or working conditions on vessels linked to human rights abuses.
By reducing the use of traditional shrimp feed, in additon to making use of fully traceable tuna byproducts "a leap forward in sustainable shrimp production had been made", Calysta said.
"Thai Union is one of the world's largest seafood producers and, like us, it is committed to improving sustainability and traceability in the shrimp farming industry – making this partnership a significant moment for the seafood sector," added Calysta president and CEO Alan Shaw.
"Our aim is to help create a future where the world's growing population has guaranteed food security. By introducing a sustainable alternative protein that allows us to determine whether a shrimp was fed Feedkind protein with a simple test, Feedkind offers the industry a new level of transparency."
Thai Union will now roll out the feed across parts of its vast shrimp farming operation as a result of the partnership.
"Aquaculture is key to providing a sustainable form of protein for the growing global population," said Thai Union global director of corporate affairs and sustainability Darian McBain.
"Ensuring that the feed inputs to aquaculture are sustainable, as well as the production methods, is vital. By working with Feedkind, we are able to offer shrimp grown using feed that has completely replaced the fish caught for fishmeal in the feed with an innovative alternative protein."
He added: "The fact that the protein has a unique carbon signature that helps provide traceability and reduce seafood fraud are other significant benefits."