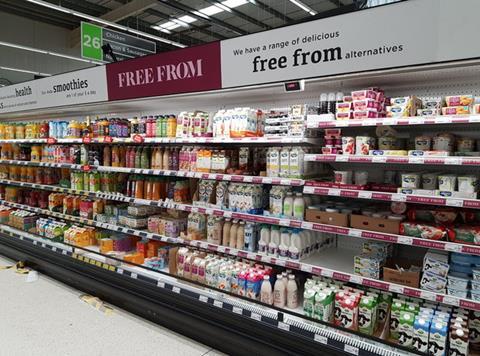 Asda has made swingeing price cuts to its most popular free from lines, which it claims make them the cheapest on the market.

Sixteen own-label products including pasta, bread, cornflakes, soya and yoghurt are now up to a claimed 40% cheaper than equivalents sold by others in the big four.

The 16 items are best sellers from Asda's free from lines and products that customers will "typically buy week in, week out", according the supermarket.

The supermarket has also introduced over 100 new free from products, consisting of chilled and ambient and including around 70 branded lines.

The 16 products reduced in price are now either £1 or £1.50 each.
Examples include Asda's 535g Free From White Loaf, reduced from £1.84 to £1.50, 40% cheaper than Morrisons' £2.50 equivalent, which is 550g. Tesco's equivalent is £2.10 and Sainsbury's £2.

A 500g pack of Free From Fusili Pasta has been cut from £1.09 to £1, compared with £1.15 in Tesco, £1.20 at Morrisons and £1.25 at Sainsbury's.

Four of the 16 SKUs, including a Free From Pot Chilli and two variants of soya yoghurt, have no equivalents at the other three supermarkets.

In the case of Asda's Free From Noodle Pot Chow Mein, the price has been cut from £1.25 to £1, only matching that of the single equivalent on offer, from Tesco.

"At Asda, we recognise that free from foods are an essential part of the weekly shop for an increasing number of families, so we're working hard to offer the same everyday low prices that Asda is famous for, while still maintaining great quality products," said Lizzy Massey, vice president of Asda own brand.

The 100 new lines include Rude Health drinks, Dr Shär snacks and Violife cheese. Among the new own brand SKUs are free from cheese, tortillas and kids' pasta.

The move sees Asda's core chilled free from range increase by 42% and its ambient range by 21%.

"As well as making sure free from products are well priced for customers, we also understand it's really important to offer choice when it comes to a free from diet, to make sure customers never have to feel like they're missing out on the food they love," said Massey.