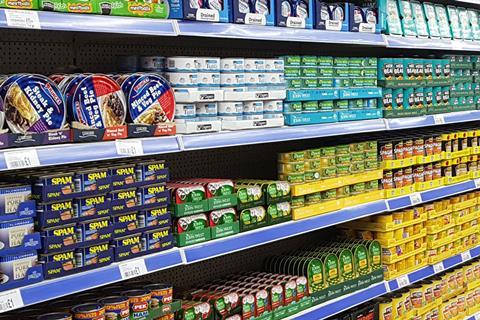 Supermarket prices for items like Spam, tinned fish and baked beans are on the rise just as one in 10 Brits admit they are stockpiling in case of a no-deal Brexit.

Recent cost price inflation on commodities like fish, vegetables and wheat - as well as packaging like aluminium - has prompted a swathe of price increases in the ambient aisles of the major mults in recent months, pushing up the cost of foods popular with stockpilers.

Average supermarket prices for tinned meals are up 6% year on year, for example, while tinned fish prices are up 3% [Edge by Ascential 52 w/e 27 March 2019]. Shoppers are paying 10p more for a 110g tin of John West Steamed Mackerel in Olive Oil, now £1.80, while a Fray Bentos Classic Steak & Kidney Pudding 400g is up by 5p to £2.15.

Baked beans, tinned veg and tinned meat are all 2% more expensive on average than last year. Shoppers are paying 42p more for a pack of four 415g tins of Heinz Beanz, now £2.42, a 340g tin of Spam is up 10p to £1.91 and a 200g tin of Princes Corned Beef is up 8p to £1.96.

Ambient ready meals such as instant noodles (+3%), pickled veg (+5%), condensed milk (+9%), flour (+7%) and savoury biscuits (+3%) are also all more expensive than last year.

A 567g jar of Baxters Baby Beetroot is 21p more expensive at £1.54 on average, for example, while a 397g tin of Carnation Condensed Milk is up 19p to £1.42. A 1.5kg bag of Allinson Strong White Bread Flour is up 53p to £1.67 and a 300g pack of Jacobs Cream Crackers is up 21p to £1.19.

There have also been price increases on some cooking oils, preserves, ambient soups, babyfood, dried fruit, nuts, tinned fruit and condiments.

A two-litre bottle of Crisp 'n Dry vegetable oil is 50p more expensive, for example, while a 2kg bag of own-label easy cook rice is up 11p to £2.28.

It comes as canned food giant Princes admitted this week it had reduced some of its tuna tins from 160g to 140g in the face of cost pressures.

"The industry has faced a number of inflationary pressures, and combined with the current retailer environment, that makes it incredibly challenging," according to marketing director Alan Eriksen. "The pack size reduction is absolutely a reflection of those inflationary pressures."

Inflation in fish was being driven by "a number of ­different dynamics" including higher sustainability costs and ­"currency fluctuation", he added.

Princes had built up stocks "on some key lines, for up to four weeks" to prevent disruption in the event of a no-deal Brexit, Eriksen said.

Exclusive research by The Grocer revealed last month that 11% of British shoppers are already stockpiling food and drink over fears Brexit could lead to shortages, with another 6% planning to start stockpiling.