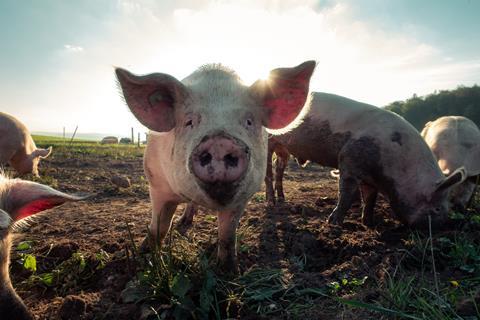 Shoppers are paying more for bacon in the major mults, after wholesale pig prices continued to rise at the end of last year.
The average price of supermarket bacon is up 2% year on year following increases across the mults in recent months [Edge by Ascential 52 w/e 9 January 2020].
Shoppers are paying 13p more for a pack of premium own-label dry cured streaky bacon, now £3.06 on average, while a 300g standard pack of streaky is up 9p to £2.23 and a 250g pack of lardons is up 19p to £2.66.
Tesco has seen the most own-label rises, with 275g rind-on streaky bacon and 300g smoked rindless back bacon now 20% more expensive year on year at £1.20 from £1.25. A pack of 500g middle bacon from the retailer's Woodside Farms tertiary brand is up 19.4% from £1.65 to £2.
The grocery giant's increases come amid price increases for more than 300 of its own-label items, including bacon.
A spokesman for Tesco says: "We want to provide our customers with great value. We regularly review our prices to reflect this, and this month we have reduced prices on hundreds of products through our Great Value event."
Ham is getting costlier in the supermarkets too, with average prices up 4% year on year. A 120g pack of own-label breaded ham is 18p more expensive than last year at £2.03 on average in the mults, while a 120g pack of Premium British Wiltshire honey roast ham is up 42p to £3.03 on average.
Prices are also on the rise for Continental meats. A 100g pack of milano salami is now 9p pricier at £1.73 on average, and an 80g pack of parma ham is £1.81 on average – up 4p on last year.
It follows warnings last year that bacon and pork prices would keep soaring as a result of the African swine fever crisis.
"The current increased demand that faces European suppliers makes it increasingly likely that prices will continue to rise throughout the rest of the year," says York-based procurement company Beacon.
The monthly average all pig-price (APP) for November was 160.56p per kilo – the first time the monthly average has topped 160p since autumn 2017, according to the latest UK Pig Meat Market Update from AHDB. "By week ended 21 December, the APP had risen to 163.83p/kg."
The standard pig price "has also been on an upward trend, averaging 158.60p/kg in November and 161.91p/kg in December" it adds.
A spokesman for pork giant Tulip says bacon "has largely escaped any real inflation for the past 15-20 years. So, in some respects, what we are seeing is an alignment of pricing."
Recent increases in prices of EU pigmeat have been "driven by high demand in Asia for European raw material and pork products as a result of the huge impact ASF has had" he adds. "China in particular has seen its pig herd cut by half during the past year. Suppliers have been quick to respond."