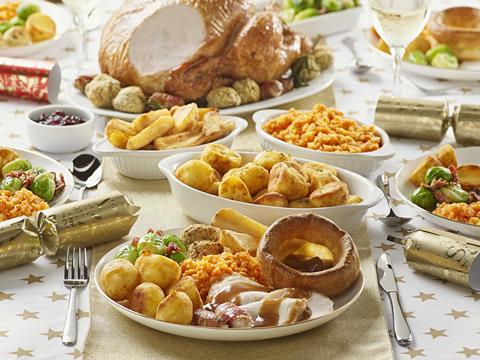 Shoppers face paying more for their Christmas diner trimmings this year, after a raft of gravy and stuffing SKUs went up in price in the major mults.

Instant gravies and stuffing mixes are 3% more expensive on average than last year, following shelf price increases on about 30 branded and own label SKUs across Tesco, Sainsbury's, Asda, Morrisons and Waitrose, research by The Grocer shows.

Knorr, for instance, has seen the average supermarket price of its 1112g Gravy Pot Chicken and Gravy Pot Beef rise by 11p [Edge by Ascential 52 w/e 2 December 2019].

A spokeswoman for the brand's owner, Unilever, says: "This is down to a reduction in price promotions across the year in some of our customers. Pricing is always at the discretion of the retailer."

Indeed, the biggest shelf price rise for instant gravy, in absolute terms, has been Bisto's 550g pack of core granules. This time last year, it was on promotion in Tesco at £2.50, but this year it is on sale for an everyday price of £3.25 - a 75p increase. Across all five supermarkets, the SKU is an average of 45p dearer.

"We want to provide our customers with great value," says a Tesco spokesman. "We regularly review our prices."

Another six Bisto instant gravy lines have been subject to average shelf price increases across Sainsbury's, Morrisons and Waitrose. These include 170g tubs of Bisto For Turkey (up an average of 17p), Bisto For Chicken (up 15p) and Bisto For Vegetables (up 13p) granules.

"The cost of individual products is determined by a number of factors, and prices can fluctuate, both up and down, as a consequence," says a spokesman for Sainsbury's. "A range of stuffing and gravy products are currently on promotion."

Since last December, Sainsbury's has raised the price of its own-label stuffing mixes including 130g Lemon, Parsley & Thyme (from 65p to 70p) and Apple & Herb (from 65p to 75p).

However, the biggest price rise in stuffing has been for 225g Waitrose Sage & Onion. At £2.15, it is 36p more expensive than it was in the run-up to last Christmas, when it was on promotion.

Like its supermarket rivals, Waitrose has also hiked the shelf price of 85g Paxo Sage & Onion Stuffing, which is up by an average 12p across the mults. The 170g version is up by 9p.

Both Waitrose and Premier Foods - which owns Bisto and Paxo - declined to comment.

The price rises come despite the cost of wheat - a primary ingredient for both ambient stuffing and instant gravy granules - being 12.4% lower than 12 months ago.

"The price of UK milling wheat for the week commencing 6 December 2018 was £176.50 per tonne, while the price this week for the same grade of milling wheat is £154.60 per tonne," says David Eudall, head of market specialists (arable) at AHDB.