Consumers choosing low-sugar drinks in the juice aisles could be cutting spending as well as sugar consumption.

Many retailers have ramped up ranging and activity for healthier soft drinks in the wake of the ongoing furore over sugar - and some of the steepest discounts in the juices, juice drinks and smoothies category have been seen on low and no-sugar products.

According to BrandView.com data, the average price of large format (650ml-plus) ambient low or no sugar juice drink has fallen 12.5% from £1.26 per litre to £1.11, when comparing products at the big four on 1 September this year with the same date in 2013. The drop has been driven by own-label lines, which have fallen 15.9% to 92p per litre, compared with a 4.2% decline in the price of branded low or no-sugar drinks to £1.68.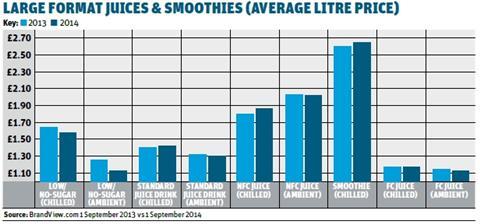 Chilled larger-format low and no-sugar drinks have fallen a more modest 3.6% year on year to £1.57, in large part due to promotions on the Tropicana Trop 50 range launched by PepsiCo in January 2013.

Single-serve low-sugar drinks bucked the downward trend, with prices up 5% to £1.42 on average. The hike was led by branded lines, up 5.4% to £1.57 a litre, while own-label rose 3.6% to £1.02.

The steep decline in the price of larger-format low and no-sugar drinks was in contrast with larger formats in other parts of the juices and smoothies category. On average, 650ml-plus chilled products rose 0.4% a litre to £1.53, driven by a 4.5% hike in not-from concentrate juice to £1.86.

In stark contrast with the rising price of many chilled lines, some of the most premium chilled juice products have fallen sharply. Freshly squeezed juice - typically sold under top-tier own-label ranges - has plunged 16.5% year on year to £2 a litre on average.

Despite declining sales - with value and volume both down about 10% year on year [Kantar Worldpanel 52 w/e 8 December 2013] - the smoothies category has not kept a lid on prices. Larger-format smoothies have risen 2% year on year to £2.57 a litre, while single-serve packs have risen 4.9% to £4.06.

Meanwhile, a 16% year-on-year drop in the commodity price of apples [Mintec] - and predictions this will fall further - has had no impact on current prices, which remain static.