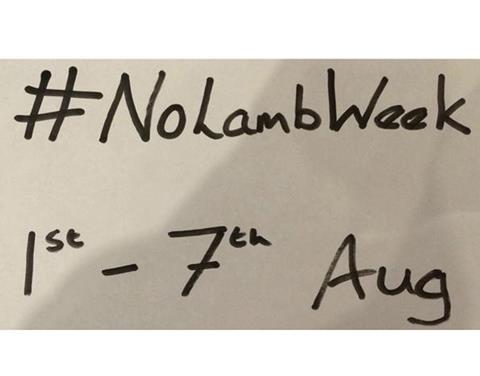 A group of disgruntled Welsh farmers has launched a campaign to withhold lamb supplies to supermarkets for a week to highlight the growing gap between wholesale and retail lamb prices and pressurise the mults to "bring down their prices and create demand".
The boycott – promoted on Twitter using the #NoLambWeek tag – is set to kick off on Monday (1 August).
One member of the group – a North Wales-based sheep farmer who asked to remain anonymous – told The Grocer thousands of lambs could potentially be withdrawn from sale as part of the campaign.
He said the group hoped it would "make a statement" and draw attention to the plight of sheep farmers who have been left facing a sharp plunge in farmgate prices over the past few months which had not been matched by a similar fall in retail prices.
"We understand the current situation – where we have an abundance of New Zealand lamb – is unavoidable, and we accept that a strong pound, weak euro and the Russian trade embargo have all had an effect on the sector," he said.
"We're not even asking for more money at the farmgate – all we want is for retailers to pass on the savings they are making from low farmgate prices to consumers. After all, they readily do it with milk," the farmer added.
The #NoLambWeek boycott has been met with mixed reactions from the farming sector. Some farmers have pledged their support, with almost 600 votes in favour of a boycott on twitter.
But others have voiced concern that withholding British supplies could simply result in more New Zealand lamb being sold on supermarket shelves.
While supporting the campaign, Welsh farmer and TV presenter Gareth Wyn Jones said on Twitter retailers would have "plenty in store", and any boycott would "only put a ripple in the ocean".
Elsewhere, sheep farmer Clive Phillips suggested "a #buylambweek aimed at consumers was more positive and offered more prospects than a #nolambweek", while farming consultant Andy Guy warned there would be "twice as much lamb" on the market on 8 August, with much of it overweight, further driving down the farmgate prices.
NFU livestock board chairman Charles Sercombe said any shortage in supply to the mults would only be a "short-term blip, there's too much lamb on the market at the moment".
But Sercombe added farmers were frustrated with the lamb supply chain. "We have been challenging retailers (and will continue to do so) over who is profiting from the current market situation, and what margin the retailers are taking," he said.
"Some retailers are now looking at bringing forward price promotions to build demand, and we will press them for more innovation on packaging, cuts and presentation."