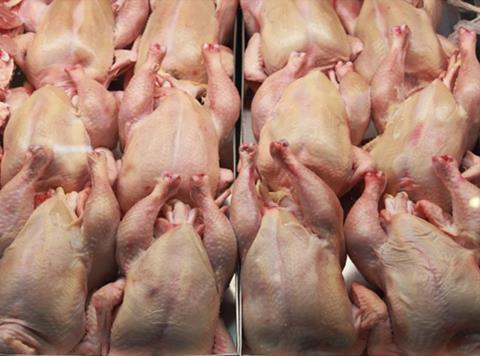 2 Sisters Food Group is facing a major crisis this morning following a report by ITV News and The Guardian that claimed to have uncovered a series of food safety breaches at its poultry plants.
The Guardian/ITV exposé involved undercover filming at 2 Sisters sites that supply poultry sold by retailers including Tesco, Sainsbury's, Marks & Spencer, Aldi and Lidl.
All retailers have launched investigations into the allegations, with M&S and Aldi stating they would not take product from one of the 2 Sisters sites named in the report at West Bromwich until its investigations had been concluded. M&S has also confirmed that "as a precautionary measure", all fresh chicken supplied directly from the site has been removed from its shelves today.
"The standards shown in the footage are unacceptable, we take hygiene and traceability very seriously and have extremely high production standards," said a spokesman for M&S.
Aldi said it required all suppliers to "adhere to the highest possible food hygiene and traceability standards at all times", adding it had launched its own investigation into the allegations "as a matter of urgency".
Sainsbury's added it was concerned by the allegations and was investigating further, adding its suppliers were "expected to meet our high standards", while Lidl reported it was "very disappointed to learn of these allegations and will be urgently investigating this matter with the supplier".
Meanwhile, Tesco said: "We operate to the highest possible food quality and safety standards, carrying out our own regular audits at all of our suppliers to ensure these standards are maintained. As such, we take these allegations extremely seriously and will be carrying out our own rigorous investigation."
The British Poultry Council, which represents the processing sector, said the allegations were "serious and demand investigation".
2 Sisters response
2 Sisters has declined to comment in detail on the allegations, saying it was not given the time or the detailed evidence to conduct any thorough investigations to establish the facts, "which makes a fulsome response very difficult".
"We have been made aware of several broad allegations made by The Guardian/ITV in relation to inappropriate procedures, food safety and hygiene issues at two of our poultry processing facilities. We view these allegations extremely seriously," it added.
"What we can confirm is that hygiene and food safety will always be the number one priority within the business, and they remain at its very core."
It also successfully operated "in one of the most tightly-controlled and highly regulated food sectors in the world", and was subject to multiple and frequent unannounced audits from the FSA, BRC, Red Tractor, independent auditors and its customers.
"By example, our facility in the West Midlands under investigation received nine audits (five unannounced) in the months of July and August alone," it claimed in a statement.
It added: "However, we are never complacent and remain committed to continually improving our processes and procedures. If, on presentation of further evidence, it comes to light any verifiable transgressions have been made at any of our sites, we will leave no stone unturned in investigating and remedying the situation immediately."
FSA launches review
Following the allegations made in the report, the FSA said inspectors went into the highlighted 2 Sisters plant to start an investigation.
"Our inspectors found no evidence of breaches. However we continue to review the evidence and if any incidences of non-compliance are found we will take prompt and proportionate action with the business concerned, working closely with the local authority," it said in a statement.
"We would urge ITV News and the Guardian to share any additional evidence, including witness statements, that would inform our investigation. This particular cutting plant is regularly audited by the FSA and they are also subject to unannounced inspections. The FSA urges anyone with information for this investigation to contact them," it added.
FSA chairman Heather Hancock said: "It is the responsibility of a food business to ensure that the food it sells is safe and what it says it is. We take any allegations of inaccurate labelling and breaches in hygiene regulations very seriously.
"Should we find any evidence of any risk to public health, any products on the market which we believe to be a cause of concern will be urgently removed from sale. We would always encourage consumers to take note of our advice on safe cooking, handling and storage of chicken and other poultry meat."