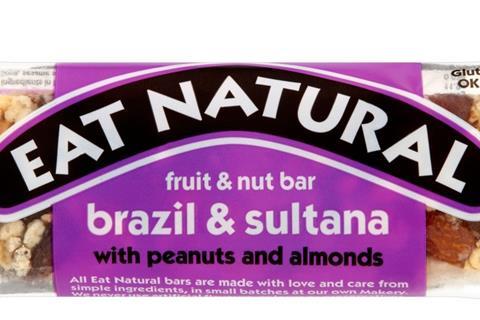 Eat Natural is recalling batches of its brazil & sultana bars after a number of shoppers became ill with salmonella.
The brand said today it was "working with all relevant authorities including the Food Standards Agency and retailers" to ensure the brazil & sultana with peanuts and almonds bars were withdrawn from sale immediately.
A "small number" of people had become ill with salmonella, some having consumed the bars as well as other food items, it said.
"Further investigations have identified an issue with Brazil nuts, so as a precautionary measure, the company has removed the only product they make which contains Brazil nuts, namely the 'brazil & sultana with peanuts and almonds," it added.
The bars are currently listed in numerous retailers across the UK, including Tesco and WH Smith.
Both single and multipack formats of the bars are affected, with the best before dates from August 2020 to June 2021.
"Our bars are heat-treated and this diminishes the likelihood of contamination, but we are taking this matter extremely seriously and taking all steps possible, even though at this stage the notification is very much a precautionary measure," said Eat Natural co-founder Praveen Vijh.
It was "an isolated incident related to some batches of brazil nuts and does not affect any of our other bars or cereal products in any way", he stressed. "The health and safety of consumers is of utmost importance and our number one concern."
Shoppers who bought the bars in question are urged not to eat them and to return them to the point of purchase.
The full list of affected SKUs follows:
35g Bars
4x 35g Multi-packs
50g Bars
3x 50g Multi-packs
3x 50g Multi-packs (Netherlands only)
12x 50g Counter packs
20x 50g Assorted Mix Packs