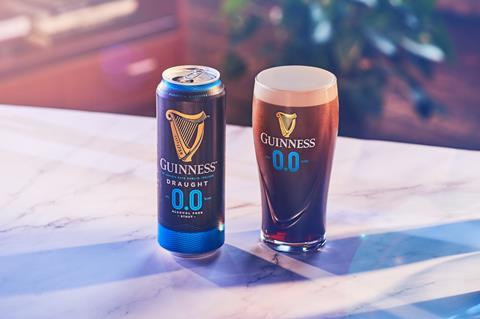 Guinness is recalling its recently launched alcohol-free version over contamination fears.
The Diageo-owned brand urged shoppers not to consume the drink, which launched just last month, and return it to the point of purchase for a refund.
This was a "precautionary measure", it said, because of "a microbiological contamination which may make some cans of Guinness 0.0 unsafe to consume".
"The issue is isolated to Guinness 0.0 and does not impact any other Guinness variants or brands," it added.
Guinness heralded the brew, the product of four years of development, as a major step forward for the low and non-alcoholic drinks category upon its launch.
It is created with a cold filtration process that removes alcohol without thermally stressing the beer, which Guinness said maintained "the integrity of its taste and character".
Guinness is currently directing shoppers to a Q&A on its brand website, where it claims it is "working hard to investigate and determine the root cause" of the contamination and "working with the supermarkets and other retailers to remove all stock from shelves and communicate this product recall to consumers".
"The cost of recalling, as well as any lost brand equity can be extremely disabling at the best of times," said Sarah Riding, parter at law firm GowlIng WLG.
"But the pressures of the pandemic may make this even harder to bear – better guaranteeing this won't happen in future will save far more in the long run, of course."
Production of the drink would "only recommence when we are completely satisfied that we have eliminated the root cause of the issue and the product meets the highest standards of quality that we and our Guinness drinkers expect", Guinness said.
"Guinness has brilliantly built up trust over a prolonged period, and hasn't been afraid of tackling tough issues in its communications," added James Smith, MD of brand agency The Kite Factory.
"However, in this case they'll need to be reactive, acknowledging their shortcomings head on will be a refreshing change of sentiment in a landscape of mistrust, lies and general disappointment."
Willam Reed – the publisher of The Grocer – has launched an exhibition exclusively for the low and non-alcoholic drinks sector. For more information visit low2nobev.com