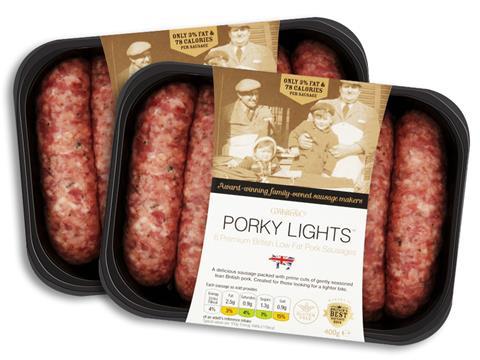 The owner of the Porky Lights sausage brand has invited Trading Standards to test its product in the wake of further claims the sausage contains significantly more fat than advertised.

The brand became embroiled in a media frenzy this month when third-party testing suggested its sausages contained a significantly higher amount of fat than the 3% declared on pack.

The revelation, which manufacturer G White & Co forcefully contests, prompted an outcry among slimmers, and led diet club Slimming World to remove it from its database.

Slimming World has subsequently undertaken its own lab testing of the sausages, which showed they contained a fat level varying from 8.7% to 19.4%. Meanwhile, an independent test by food scientist Ruth Dolby last week suggested fat content in the bangers could be as high as 9.1%.

However, G White MD Chris Price remained defiant this week and stood by the brand's own testing regime. "In order to expedite the process of giving complete and absolute assurance to our highly valued customers, and to protect our reputation, we have invited Trading Standards to now step in," he said.