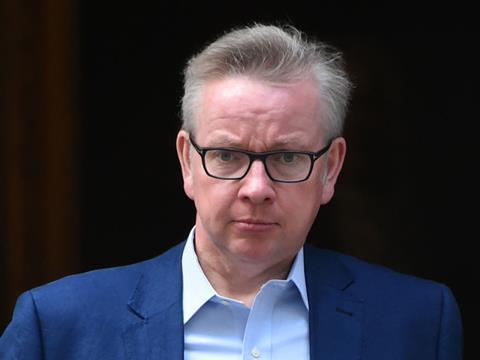 In a huge victory for The Grocer's Waste Not Want campaign, Defra secretary of state Michael Gove is set to announce a £15m scheme so more edible food surplus is redistributed to charities.

At the Conservative Party Conference in Birmingham today, the environment secretary will commit £15m in subsidies to support the redistribution of around £1bn of food surplus to thousands of UK charities, the equivalent of around 250 million meals.

The momentous decision follows two years of campaigning by The Grocer for government funding to unlock access to at least 260,000 tonnes of edible food that currently goes to waste every year.

Our petition, launched at a parliamentary reception at the House of Commons last November, called for up to £15m in funding from the government, so businesses and charities could pay for the separation, storage and transport of edible surplus. Devised in conjunction with FareShare, our proposals estimated that a £15m investment could support the redistribution of around 100,000 tonnes of food surplus to thousands of UK charities, from lunch clubs to homeless shelters and food banks.

In May, when our petition closed, it had generated 16,000 signatures, requiring the government to consider our proposal. Now, after further lobbying behind the scenes, and only four months after the petition was presented, Gove will confirm at the party conference this afternoon he is ready to make that proposal a reality.
"Nobody wants to see good food go to waste," Gove told the Daily Mail. "It harms our environment, it's bad for business and it's morally indefensible. Every year, around 100,000 tonnes of readily available and perfectly edible food is never eaten. This has got to change."

The initial funds have been secured from the Treasury for a one year scheme to go live in 2019. If successful, it will be extended indefinitely. Though full details of how the scheme will work are not available, it involves a collaboration between government, charities and supermarkets. It will also focus on fresh produce, the category most vulnerable to waste.

"We congratulate Michael Gove for responding to our call to use surplus food for social good", said FareShare CEO Lindsay Boswell. "This wouldn't have happened if it wasn't for The Grocer's Waste Not Want Not campaign shining a spotlight both on the issue and the size of the opportunity.

"That £15m can create almost 250 million meals worth of food for those in need, preventing in-date food from being wasted. This is enough food to provide every single person in Britain with three square meals for one day. Instead of being wasted, this food will go to frontline charities such as breakfast clubs for children, hospices, domestic violence refuges and homeless hostels. This will deliver almost £800m a year in overall savings, both in cash terms for the charities themselves and the knock-on savings to schools, the NHS, within the criminal justice system and in health and social care.
"We see this fund as principally for food producers and not the supermarkets. The big supermarkets have already invested in charitable redistribution from their stores and this is about supporting their suppliers to do the same. Right now it actually costs farmers, manufacturers and packers a lot less to dump or recycle fresh, in-date food than to redistribute it to good causes - in part because of the cost of keeping the surplus food fit for human consumption. With the barriers to charitable food redistribution removed, businesses will no longer be penalised for doing the right thing with their food: using it to feed people."

Feedback executive director Carina Millstone added: "This marks a major turning point in a very long fight to have food valued as it should be, and to end the moral and environmental scandal of food waste. Feedback's supermarket food waste ranking in July found that all supermarkets are still sending perfectly edible food to be broken down and made into energy - food that could and should be feeding people. The reason for that is a broken incentive system - with this announcement the government has taken a big step towards fixing that. We're delighted to see action being taken."

Dr David Moon, head of business collaboration at Wrap said: "Today's announcement is a great boost for the many support networks around the country working hard to ensure good food feeds people, and is not wasted. Between 2015 and 2017 surplus food redistributed from retailers, manufacturers and hospitality and food services businesses increased by 50%, with nearly £130 million worth of food saved from waste in 2017. And there is the potential to increase this significantly, and to expand the range and type of foods with more fresh produce. Not only will this benefit people, it will also help reduce the huge environmental impact of food waste."

Adam Leyland, editor of The Grocer, hailed the decision as "wonderful news".

"At a time of huge disruption for Defra, amid the frantic Brexit preparations, it is wonderful news to hear that this idea has been acted upon by Michael Gove. It's now up to the industry to respond in kind, and to demonstrate that once these cost neutral subsidies are in place, a lot more food surplus can be redistributed."