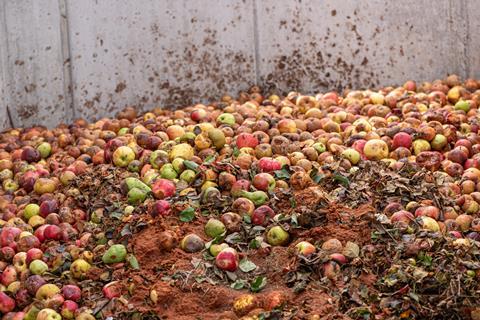 One third of all food produced for humans is lost or wasted globally, amounting to 1.3 billion tonnes per year. With millions of people around the world struggling to afford to eat, that's a particularly troubling figure. Food waste is also currently responsible for more greenhouse gases than all the commercial flights taken in one year – and it costs the global economy $940bn every year. Considering the scale of the issue, retailers, manufacturers, suppliers and food companies must work together to galvanise greater action.
From driving change at farm level and supply chains through to encouraging positive decisions by consumers at home, leadership from the food industry is essential. For businesses who want to meaningfully tackle food waste, being open about the challenge is vital. You can't manage what you don't measure, and the first step is to assess the scale of the issue – and publicly report on it. Measuring and publicly reporting on food waste helps to trigger faster internal action as well as building external trust and transparency.
Working first-hand with suppliers to identify and address any cases of loss at specific points of the supply chain is important – including just after harvest, where 30% of all food loss occurs. Another part of the solution for retailers, supermarkets and other food businesses is to divert unavoidable food surplus to people in need. The redistribution of surplus to food banks and other good causes helps support communities while also saving on carbon emissions. As communities around the world continue to struggle with increased levels of food insecurity, made worse by the impacts of the pandemic, businesses redirecting food waste can make a real positive difference.
Read more:
Combatting food waste isn't just the right thing to do for people and planet – it also makes clear business sense. Previous research has shown that for every $1 companies invested to reduce food loss and waste, they saved $14 in operating costs. In addition, those who operate as truly responsible businesses when it comes to food waste will also build trust and transparency among customers, partners, investors and employees. People want to buy from, work for and partner with businesses that are making a positive impact for society and the environment.
Collaboration between organisations, to share learnings and accelerate best practice, is hugely important. That's why The Consumer Goods Forum's Food Waste Coalition brings together 21 of the world's largest retailers and manufacturers – including Sainsbury's, Tesco, and Unilever – to cut global food loss at retailer and consumer levels. The coalition is all about joining forces to drive change, underpinned by tangible commitments – with members working to align themselves on the most effective methods of measurement and reporting, supply chain engagement and loss prevention.
We know that collective action ensures a greater combined impact, so it's heartening to see such widespread support for the UK's first ever Food Waste Action Week this week. It has unified a wide range of businesses, authorities and institutions to drive awareness and action – focusing on the link to climate change. If food waste were a country, it would have the third biggest carbon footprint in the world, which is why the week of action is highlighting that 'wasting food feeds climate change'. When food is wasted, the energy and water it takes to grow, harvest, transport and package it is also wasted. And if food ends up going to landfill and rots, it also produces harmful greenhouse gas.
Food Waste Action Week is a hugely welcome milestone to push the issue up the agenda. Now we need to maintain momentum throughout 2021 and beyond. That will be helped by the first ever United Nations Food Systems Summit this autumn, which will contribute to transforming the way the world produces, consumes and thinks about food.
Businesses have a pivotal part to play in cutting food waste, and the case is clear: taking action helps feed communities, alleviates pressure on our climate, and positively impacts companies' bottom line.