Two years on from the launch of The Grocer's biggest ever editorial campaign, we're proud to share what's been achieved so far
Two years ago we knew we had our work cut out. The stink of food waste was already high on the public agenda, shots of campaigners sifting through supermarket bins packed with food making their way to newspaper front pages embarrassingly often, and the likes of Hugh Fearnley-Whittingstall jumping on the bandwagon to berate the mults for allowing, among other things, perfectly edible, imperfectly formed parsnips to rot in British fields.

But it wasn't until food waste experts Wrap revealed the results of their biggest investigation to date into industry food waste, on 16 May 2016, that we knew the rotten scale of the problem.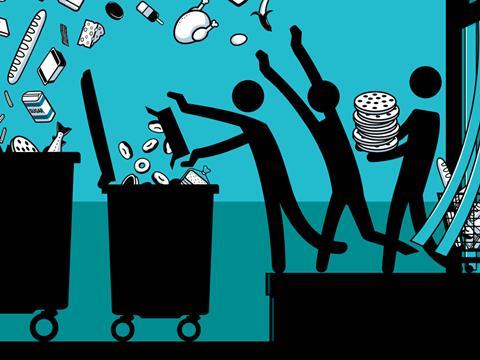 WNWN: a snapshot of the past two years…
16 May 2016
Food waste charity Wrap publishes its biggest insight into industry food waste to date. Three days later The Grocer launches Waste Not Want Not, its biggest editorial campaign for years, calling for the UK food and drink industry to do better.
27 May 2016
Within the first week, some of the country's most influential food and drink businesses pledge their support for the campaign. Early backers include Nestlé, Unilever and General Mills among suppliers, and M&S, Waitrose and Ocado among retailers.
12 July 2016
Alarmed at the rates of food waste across both industry and UK households, the Defra select committee announces an inquiry into the issue, calling witnesses from the mults and suppliers, as well as campaigners, charities and celeb chefs.
9 September 2016
The Grocer works closely with experts and businesses to pull together, for the first time, a ranking of the 10 largest suppliers and supermarkets according to their efforts on waste. Tesco tops the retail leaderboard and Unilever the suppliers'.
27 October 2016
In what feels like a seminal moment in the fight on food waste, Tesco CEO Dave Lewis and Sainsbury's boss Mike Coupe stand side by side at the Consumer Goods Forum in Paris to insist there is no rivalry when it comes to food waste, only collaboration.
17 January 2017
A huge victory as more than 60 leading suppliers and retailers pledge their commitment to double their rates of redistribution by 2020, ensuring in one fell swoop that tens of thousands of tonnes of extra surplus food will reach people. "That represents an astonishing 60 million extra meals, with a price tag of £60m per year, available to be donated to charities by the likes of FareShare, handed out to those in need or quite simply sold at a cut price rather than being chucked in the bin," says our editor Adam Leyland.
20 February 2017
The Grocer brings together four expert panellists from Tesco, Unilever, FareShare and Company Shop for our WNWN webinar exploring advice on everything from collaboration to NPD to the role of packaging and the need for government support.
20 September 2017
In another major breakthrough for WNWN - and a true first in food waste - Tesco announces that 24 of its largest suppliers will follow the mult's lead and begin publishing publicly available breakdowns of the food waste hotspots in their businesses.
30 April 2017
Shortly after Theresa May announces a shock election the Defra select committee manages to rush out its findings on food waste, days before parliament is dissolved. It urges government to do more, including a look at fiscal incentives, but Defra ministers refuse.
6 November 2017
At a parliamentary reception hosted by Labour MP Kerry McCarthy and attended by leading politicians, retailers and suppliers, The Grocer announces plans to petition government to look again at recommendations for funding (see box, above).
9 November 2017
The Grocer reveals that after months of behind-the-scenes talks between all the major mults, a landmark agreement has been reached for all of them to open up their books on food waste in the coming months - another huge milestone for WNWN.
The report laid bare the sordid details of a foetid mountain of food discarded by the industry, weighing in at 1.9 million tonnes - the equivalent of £1.9bn in lost cash for the UK food and drink industry. Significantly, it wasn't only the supermarkets to blame, with an overwhelming 1.7 million tonnes (89% of the total) being wasted before food ever reached retail and more than half of all this avoidable.

Worst of all were the hundreds of thousands of tonnes that could have been redistributed to people who needed it. The 525 million edible meals going to waste left a bitter taste in the mouth, coming as it did against a backdrop of austerity, with more and more charities struggling to make ends meet.

As our editor Adam Leyland put it, "We understand waste is part of life. No one in the industry likes wasting food. But there's a huge amount of perfectly edible food and drink that is either incinerated or goes to landfill, and that cannot be right.
Food redistributed by FareShare (tonnes)
2014/15 7,961
2016/17 13,552
Charities donated to
2014/15 1,923
2016/17 6,723

"The food and drink industry is in a unique position to effect positive change. And it needs to redouble its efforts not only to reduce waste, in line with Courtauld 2025 targets, but to prioritise food redistribution wherever humanly possible."

And so, five days later, on 21 May 2016, The Grocer launched its biggest-ever editorial campaign, challenging the industry to re-evaluate its efforts.

Our Waste Not Want Not campaign had three clear goals. To double the amount of edible food being redistributed to people to 100,000 tonnes (the equivalent of an additional 100 million meals each year); to lobby government to introduce fiscal incentives that would ease the cost pressures of redistribution, estimated at around £100 per tonne, and in so doing level the playing field with the subsidised anaerobic digestion market, and - finally - to encourage greater transparency, co-operation and engagement across the food and drink industry.


WNWN in numbers
20% The reduction in food and drink waste committed to under Courtauld
156 Companies have pledged support
Broadly speaking "we want industry to work towards the goal that any edible food - that cannot be sold by retailers and manufacturers for whatever reason - should be used to feed people ahead of any other purpose. And we want the government to incentivise the industry, so that even where it is not the easiest option, there is no a financial penalty for doing the right thing."

So, two years on, how have we done? Or more importantly, how have you done? Because for all that The Grocer has a unique platform from which to persuade, cajole and - where necessary - criticise, it is only the industry itself that can bring about lasting change. And be it through rolling out radical new plans to redistribute surplus food, reimagining production lines to cut down on avoidable waste, or educating the public on simple changes to make at home, nobody can say the past two years haven't seen vast swathes of the industry make changes.
Redistribution
Though Wrap has not yet recommissioned the same sweeping research that provided us with those eye-opening industry stats back in 2016, there are plenty of reasons to believe we now redistribute substantially more edible surplus than when that data was gathered two years ago.

Not least by taking a look at the increasing volumes passing through FareShare's 20-plus UK depots. As our campaign kicked off the charity was redistributing 7,961 tonnes. At its latest count that had grown to 13,552 in 2016/17 - a rise of 70%. That's reflected in the number of charities they work with too, which has nearly tripled to well over 6,000, largely thanks to the national rollout of Tesco's Community Food Connection scheme.

Launched in early 2017, the triple-pronged scheme was a game-changer for redistribution. Using the technology platform created by Irish startup Food Cloud, the network, redistribution infrastructure and vetting capabilities of FareShare, and the surplus food emerging from Tesco stores, the scheme snowballed from a small trial to partnerships with 6,600 stores and more than 29 million meals being donated. More importantly, Tesco made the tech open source, leaving the way open for similar schemes to be adopted by the likes of Waitrose in recent months.

It hasn't been the only successful model for redistribution that's emerged either. In March, Morrisons hit a milestone 100,000 meals less than a year after swapping a store-by-store model for a national partnership with FareShare, while Lidl has successfully grown its own 'Feed it Back' scheme from a standing start in 2017 and has plans for each store to be engaged by summer 2018.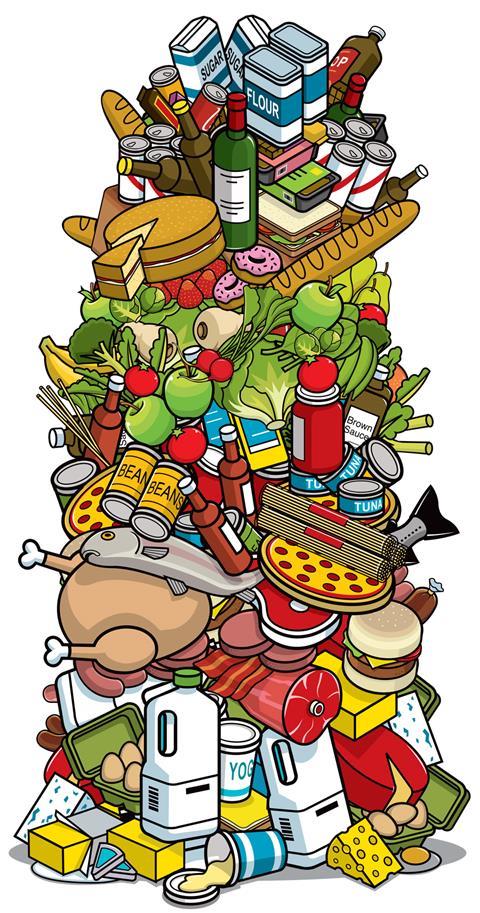 In 2016…
1.9 million tonnes of food was wasted by the UK food and drink industry each year
That equated to £1.9bn in lost sales for industry
Or 525 million edible meals going to waste
Of that total 1.7 million tonnes was wasted at manufacturing level
200,000 tonnes was wasted by supermarkets
And 56% of that was avoidable
The three goals of our campaign were:
For industry to more than double the amount of edible food being redistributed to 100,000 tonnes
For the government to incentivise the industry to redistribute edible food and create a level playing field with anaerobic digestion
For The Grocer to achieve greater engagement, transparency and co-operation among retailers and suppliers in reducing waste and increasing redistribution
And these are only a handful of the huge breakthroughs on redistribution over the past two years. Coupled with the commitment by more than 60 retailers and suppliers to double their redistribution efforts by 2020 - worth 30,000 tonnes in five years - there's a strong indication that we're a lot further along in the redistribution battle than we were. Although there is plenty more to do.
Reduction
With Wrap and its collaborative Courtauld Commitments focusing their efforts on efforts to abolish avoidable waste in the first place our Waste Not Want Not campaign has consciously focused primarily on redistribution, rather than reduction, instead. But we're under no illusions as to the vital importance of this piece of the puzzle and the past 24 months have seen some great strides forward in this space too.

At the core has been the commitment by 156 retailers, suppliers, trade bodies and campaigners to achieve a 20% reduction in food & drink waste in the next seven years via the voluntary Courtauld 2025 agreement. By the end of the first year more than half the signatories (and 155 people) were involved in working groups to dream up solutions to the causes of waste, including specialists in meat, dairy and fresh produce.
Total food waste in Tesco UK operation (tonnes)
2017 46,684
2018 53,126
Solutions have spanned the ridiculously simple -putting trays rather than rubbish bins at the end of production lines to catch perfectly good peelings and offcuts, or slashing prices on fresh foods about to sail past their use by date - to the culturally complex - challenging consumers to ditch their perfection complexes and try wonky fruit and veg - to the courageous - with the East of England Co-op breaking convention and selling food past its best before date.

So confident have some businesses been in their ability to wipe out waste altogether they've made ambitious commitments to do just that. Most publicly Tesco. Though the retailer might have missed its 2018 deadline, confirming earlier this month that it had eradicated only 64% of surplus from stores, it's hard to knock the ambition of CEO Dave Lewis when it comes to tackling the problem. Its hard-fought results prove at once both how challenging reducing endemic waste can be, but also how far even a corporate giant can get with the right mindset.
Transparency
When The Grocer launched our Waste Not Want Not campaign in 2016, the contents of industry's waste bin was kept firmly under lock and key. Even the authors of Wrap's landmark report struggled to get access to the inside story on the volumes of surplus lurking behind factory doors. But two years on, we're on the brink of a real breakthrough.

As we reported in November, after months of behind-the-scenes discussions facilitated by the IGD, all the major supermarkets have now agreed on a common methodology for reporting waste and are in the final stages of releasing breakdowns of their own figures for the first time. In fact, only last week Morrisons announced it had wasted 11,000 tonnes across its store network in the past year, with its rivals expected to follow shortly. The collective publication comes five years after Tesco began publishing its data, two years after Sainsbury's followed suit and eight months after 24 of Tesco's biggest suppliers agreed to set an example for the supply chain by publishing figures.

These levels of transparency are almost unrecognisable to the tight-lipped landscape we faced two years ago and represent perhaps one of the biggest areas of progress since the launch of Waste Not Want Not.
How to turn food waste… into 16,000 signatures
Ever since the launch of WNWN, The Grocer has believed that the introduction of funding to compensate businesses for the cost of redistributing surplus - which can cost up to £150 per tonne - could help unlock access to tonnes more edible food.
And so, in November 2017, at a parliamentary reception at the House of Commons, we announced to a crowd of distinguished MPs, industry CEOs and food waste campaigners our plan to turn food waste into gold by challenging both them - and the public - to get #seriousaboutsurplus. The next day our petition was live and six months on, with fantastic support from our partners at FareShare, more than 16,000 of you gave the plan your backing, requiring government to rethink the proposals and provide a response.
As FareShare CEO Lindsay Boswell has said many times, "you can't manage what you can't measure". And we couldn't agree more.
Engagement
Such seismic levels of activity across the industry perhaps speak for themselves when it comes to measuring changes in engagement on the topic of food waste. Vast swathes of the industry have recognised that, for their consumers, the issue is now right at the top of the agenda and have responded with a concerted push across redistribution, reduction and transparency.

More than 50 major businesses have pledged their public support for WNWN and even some of those businesses that languished at the bottom of The Grocer's 2016 ranking on efforts to tackle waste have changed tack, such as Lidl.

But there remain some parts of the industry still doing too little. For one, experts tell us that manufacturers can remain reluctant to get involved, either through a refusal to accept that waste is a problem within their business, as a result of the cost pressures of redistribution or - in some cases - because they are out of the spotlight and able to shirk the accountability that supermarkets have no choice but to face head on.

Nobody wants waste. Certainly nobody that runs a business. But as The Grocer set out in its aims two years ago, the answers lie in proactively engaging in solutions, openly sharing case studies and challenges, working with all elements along the supply chain, setting goals, creating innovation and admitting where the problems lie.

We've achieved a staggering amount in only two years. Let's not stop now.
And it isn't over yet….
In two years the Waste Not Want Not campaign has achieved a lot. And created a lot. From hundreds of articles to thousands of tweets, to expert webinars and parliamentary receptions, to brand new awards and a touch of political lobbying, we've attempted to rise to our own challenge and place the issue of food waste at the top of our editorial agenda.
To make sure we are still producing relevant, agenda-setting content though, we'd love to hear from you. What do you think of our efforts so far? What would you like to read more about? Where do you think industry can do better and how?
Please, email features editor megan.tatum@thegrocer.co.uk , call 01293 610264, or tweet us @TheGrocer.