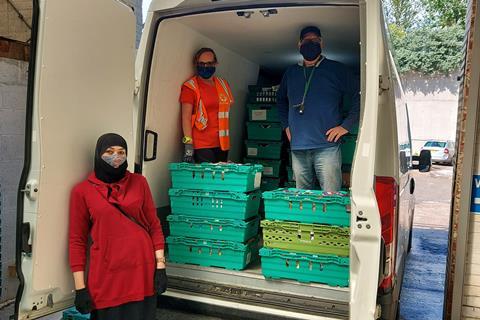 Supermarkets are facing fresh calls to adopt new Wrap guidance on the redistribution of surplus own label food.
A raft of charities told The Grocer they were unable to redistribute food from suppliers, despite their willingness to help, because of rules designed to protect the integrity and food safety of supermarket labels.
It emerged only Sainsbury's had agreed to implement best practice issued by Wrap last summer, which urged supermarkets to rethink rules that limit the redistribution of own-label food to larger charities.
Only the biggest redistribution operations, FareShare and Company Shop, currently have agreements with all the supermarkets to access surplus own-label products.
In July, Wrap called on retailers to cast the net wider and work with more redistributors, by setting out consistent requirements for prospective partners.
Its call came after The Grocer revealed a year ago that 300,000 tonnes of food fit for human consumption were ending up as animal feed or going to anaerobic digestion. Up to two thirds of that food was own label, prompting critics to hit out at "arcane" supermarket rules that prevent redistribution among smaller partners.
"It is a real issue particularly with supermarkets who have concerns over brand integrity and understandably want to ensure there are no safety issues," said David Carter, CEO of City Harvest London. "We can understand that companies don't want just any organisation to be distributing this food, but we are a highly professional organisation. We are a £5m charity that's feeding upwards of 30 million people across London.
"Here at City Harvest we have a 13,000 sq ft warehouse, we have 17 Mercedes chilled trucks."
Read more:
The comments were echoed by Rene Meijer, CEO of Sheffield-based charity Food Works, which redistributes 500 tonnes a year of food to those in poverty, including through a network of kitchens and food markets. "We've been trying for some time to get access to own label products and have been trying to persuade retailers to allow this to happen without success," she said.
"I know of three major suppliers in Sheffield alone who would be able to help us but can't because of the rules imposed on them when it comes to anything that carries labelling from the retailers.
"It's a massive problem leading to an enormous waste of food which could otherwise feed people in need and it's because there is no incentive for the supermarkets. It's not their costs and it's not their waste, so they don't' regard it as their problem."
Meijer also claimed even Wrap's new guidance, which suggested redistribution organisation should agree to a system of audits and inspections in return for access to stock, risked piling huge amounts of red tape on to hard pressed charities that could ill afford them.
Mark Game, CEO of The Bread & Butter Thing, said: "You would have thought that all the supermarkets would have signed up to Wrap's best practice. It's extremely disappointing that only Sainsbury's has made that step." A Sainsbury's spokeswoman said. " We are committed to reducing our food waste by 50% by 2030 and work with a number of partners, including Neighbourly and FareShare to redistribute surplus food to those in need. Tesco said its food donation programme was the largest of its kind in Europe and it had provided more than 135 million meals to FareShare, stressing it used the charity to audit those who could receive food so it had confidence in its safety.
Morrisons said it had reduced waste by 13% since 2016 and said it had a range of partners to "redistribute as much as possible" and was working on better forecasting tools for suppliers so they could reduce surplus.
An Asda spokesman said: "We are passionate about reducing food waste and have a reduction target of 50% by 2030. We work with approved redistributors such as Company Shop and FareShare who delivered our food to over 4,000 individual charities across the country last year, preventing waste and helping fight food poverty in our local communities.
"We will always look to work with like-minded organisations and preapprove redistributors to speed up the process."