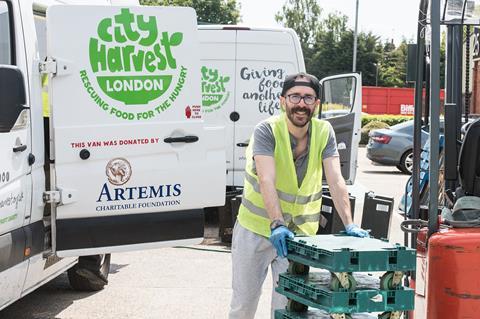 Real estate investment firm Segro has provided two of its warehouses to food redistribution charity City Harvest to help vulnerable Londoners.
City Harvest collects surplus food from all sectors of the industry and delivers to more than 300 local organisations across the capital. It provides about 80,000 meals on average every week for homeless shelters, soup kitchens, family centres and domestic abuse refuges.
The new space on Segro's Acton Estate in West London will complement an existing City Harvest facility on the estate, enabling the charity to accept more food donations and essentials.
"Over the years, we have established a very good relationship with City Harvest to ensure that the needs of specific locations can be met and that a real difference is made to thousands of people's lives," said Alan Holland, Segro business unit director in Greater London.
"City Harvest has provided invaluable support for so many vulnerable people right across our London portfolio, so we're proud to be able to help it continue and extend its great work even further."
In response to the coronavirus pandemic, City Harvest is also working with numerous projects supporting London's NHS workers and children missing out on free school meals.
City Harvest CEO Laura Winningham added: "City Harvest's successful, rapid response to growing levels of hunger during the Covid crisis was made possible by Segro's support. This crisis will leave a long-lasting need for our scaled-up food redistribution efforts amongst London's vulnerable communities.
"With Segro as a partner, we will utilise this additional depot space to triple our impact, allowing us to deliver millions of additional nourishing meals annually."