As our Waste Not Want Not campaign battles on, we look back at the key decisions, disappointments and developments in the war on waste of the past year. What are the breakthroughs? Who are the frontrunners? And where has progress ground to a halt?
---
Victory of the year
Retailers and suppliers vow to double down on redistribution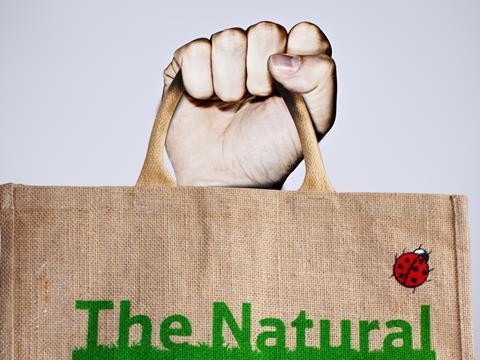 Cheers rung out at The Grocer's HQ in January as, off their own back (and under no pressure from Wrap) 40 fmcg firms who had already signed up to Courtauld 2025, vowed to extend their commitments with a new voluntary target to double redistribution of edible surplus food by 2020. If successful, the target means 30,000 tonnes of extra food will go to people in the next four years, enough to prepare an additional 60 million meals (worth £60m per year) and a huge step forward in achieving one of our Waste Not Want Not targets: to double redistribution to 100,000 tonnes.
The unprecedented move marked a "tipping point," said Wrap. A sign of "huge potential," added FareShare.
And it was by no means the only major victory of the past 12 months, with unprecedented levels of progress across the industry.
Only last week another leap forward had waste campaigners (and us) jumping for joy as 24 of Tesco's biggest own-label suppliers agreed not only to halve their food waste by 2030, but to follow the supermarket's own example and publish their food waste data too. Signatories to the landmark move included the likes of Müller, 2 Sisters Food Group and Greencore, businesses worth £17bn in grocery sales, with Tesco CEO Dave Lewis hailing it a "pivotal moment" in the fight against food waste.
That's because, as we've repeatedly said, you can't manage what you can't measure. This commitment to greater transparency and collaboration was another cornerstone of our Waste Not Want Not campaign, and will provide both industry and campaigners with an accurate picture of who is wasting what and where in the supply chain.
This move by suppliers comes a year after Sainsbury's too bared all on waste for the first time. In September 2016, the supermarket disclosed that 35,800 tonnes of surplus was being generated from food waste, with 7.6% redistributed and 26,900 tonnes sent to anaerobic digestion. The move was widely praised by consumers and should act as yet another catalyst (as if they needed one) for the remaining eight leading grocers to come clean.
But the breakthrough announced by Tesco last week is arguably more significant as it marked a crucial shift in focus to higher up the supply chain.
Though responsible for an estimated 89% of industry surplus, too often suppliers and manufacturers have shirked the spotlight on waste, leaving it to their supermarket partners to take all the flak. This achievement showed that ludicrous way of thinking is (thankfully) drawing to an end.
It can only be good news for redistribution, which languished at 47,000 tonnes (less than 2%) at Wrap's last count. And while the updated Courtauld commitments are still more than two years away, already there have been promising signs.
In May, FareShare reported donations up 15% across its network of 6,700-plus charities, including a 28% growth in meat, fish and dairy, and a 13% rise in volumes of fresh fruit and veg.
Meanwhile commercial redistributor Company Shop redistributed more food "than ever before," it said (despite cost pressures pushing down turnover) while its charitable arm Community Shop passed the £1m turnover mark and opened its fourth branch in Grimsby.
At Irish surplus startup FoodCloud, the team hit one million meals of redistribution each month on its platform from April, two years after teaming up with Tesco and integrating its tech into each and every scanner across the mult's 3,500 UK stores. In fact, so impressive has the partnership been that in early 2017 Waitrose began trialling the same scheme across its own stores, proof that when it comes to waste, professional rivalry needs to be put firmly on the back burner.
These major breakthroughs alone prove that it's been a mega year for food waste. And in amongst these big, high profile announcements a raft of smaller, but significant victories have littered the past few months. From major businesses doing their bit for the first time (see Converts of the Year, right) to rapid rollouts (see Convenience Frontrunner of the Year, p37) to huge step changes by high street giants (see Food to Go Triumph of the Year, p33) we've seen some superb progress. Let's hope it's only the start.
---
Converts of the year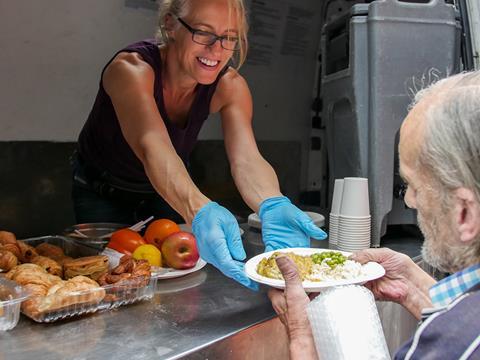 Lidl seizes 'unique opportunity' for food sector to battle waste
Soaring sales, sizzling supermodels and a stream of stores rolling out here and in the US – it's been non-stop at Lidl.
But the discounter had long missed a trick when it came to its surplus food, languishing in penultimate spot in The Grocer's ranking of our top 10 supermarkets on food waste in 2016, only marginally ahead of bottom place Iceland.
Then in January, it turned a corner. Following a "hugely successful" eight-week trial with social enterprise platform Neighbourly, the retailer announced it would be rolling out its first national food redistribution scheme across all Lidl stores by 2018, providing an extra two million meals a year to charity. A touch late to the party perhaps, but UK CEO Christian Härtnagel finally saw the light, and the "unique opportunity" the food sector has to tackle waste.
It's not been the only player who's seen the light. In May, leading logistics experts Fowler Welch ramped up its efforts, naming FareShare its 'Charity of the Year' after teaming up with the organisation for the first time in 2016. In that short time, it's diverted one million meals to hungry mouths and recommended many of its suppliers do the same, with Quorn making its first delivery to FareShare later that month as a direct result.
If that weren't enough Aldi signed off a new food waste strategy in 2016 teaming up with FareShare as its official redistribution partner, with a new process rolled out in the spring this year.
And after years of supplying charities on an ad hoc basis with its surplus yoghurt, quark, cottage cheese, and milk Arla also committed to an integrated process in February diverting 440,000 meals by August to FareShare , and committing to reach half a million meals by the end of 2017.
---
NPD of the year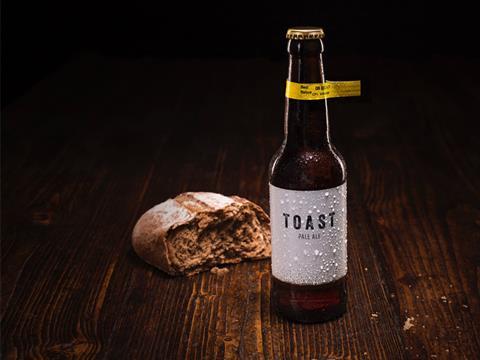 How crafty use of leftovers can create delicious innovations
Who says surplus can't taste delicious? Take Toast Ale, a beer brewed from bread, which since its 2016 launch has rescued 6,000kg of bread. There are many more examples. Unilever added wonky tomatoes to its new Hellmann's ketchup in May (set to rescue 2.5 million tomatoes every year from going to waste on UK farms, it says). Dash Water made its debut in May with carbonated zero-calorie waters infused with wonky fruit & veg and was listed in Planet Organic and Selfridges. And Yeo Valley saved surplus fruits and raised £20k for FareShare with its new Left-Yeovers yoghurt in January.
---
Statistic of the year
A 14-fold return for supply chain efficiencies
If saving the world doesn't do it for you, how about a whopping 14-fold return on investment? That was the staggering statistic unveiled by the UN's Champions 12.3 initiative in March.
After an analysis of more than 700 companies operating in foodservice, retail and hospitality, the initiative showed that for every £1 spent on supply chain efficiencies, awareness campaigns or product redesigns to curb food waste, firms see an average return of £14.
The research, ﷯part of the UN target to halve global food waste by 2030, spanned 17 countries and 1,200 business sites, with 99% of companies surveyed reporting a positive ROI and a median 14:1 return.
Better for the planet, better for people and undeniably better for the bottom line, you'd think there were no excuses left for not putting the issue top of the boardroom agenda. And yet worldwide one third of all food produced is still wasted, added the report, amounting to a huge loss of $940bn per year. The United States is the worst culprit, with the average family chucking out the equivalent of $1,500 per year (61% of all its waste), while across sub-Saharan Africa 95% of all waste happens within industry.
---
Misunderstanding of the year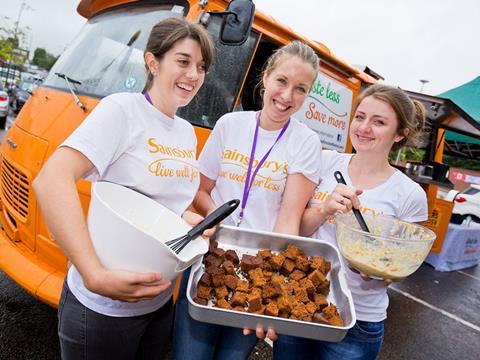 Twitter storm as Waste Less, Save More initiative is, er, scaled up
Twitter took up arms when it spotted news that Sainsbury's was dropping its £10m, five-year initiative to help cut down household food waste in May. Lambasting the supermarket for scaling back its Waste Less, Save More commitment the Twitterati were outraged… for a few hours at least. As it turned out their anger was misplaced, with the inflammatory headline the work of a rather overexcited newspaper journalist.
The truth was the supermarket had fallen short of its self-imposed reduction target in the test town of Swadlincote, where it had rolled out myriad in-store, community and educational measures to help shoppers bin less. Results showed it had only moved the needle by single digits (rather than its 50% aim) but regardless two-thirds of residents said they were looking to change their habits, and a third were more aware than before the supermarket arrived in town.
Not to be disheartened, far from backing quietly away Sainsbury's has ploughed a further £1m into the project, to spread this awareness to 29 new communities.
---
Prediction of the year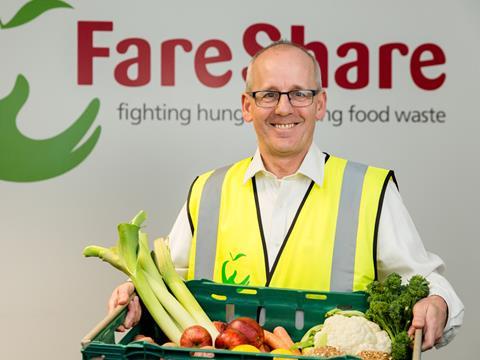 Food industry could become second only to lottery in charity donations
Rarely does big business get to be the good guy. Dodgy tax arrangements, overpaid CEOs and hiked up prices – too often it's on the defensive and in the doghouse. But when it comes to food surplus it has the chance to make a difference; a heroic difference.
In fact – as FareShare CEO Lindsay Boswell told the Efra select committee on food waste in December – it could become the second biggest contributor to UK charities after the national lottery if it pulled its socks up on redistribution.
"If we in the UK could match what France does and redistribute 10 times the volumes – and with the same size population and the same size first-world food industry I see no reason why we couldn't – the equivalent saving would be £150m-£200m a year," Boswell told MPs. "That puts leftovers in value terms to the voluntary sector second only to the national lottery, and that's a mad sentence to utter."
Mad but brilliant – and all the inspiration the industry needs to take a long hard look at the tiny proportions of surplus currently going to feed hungry mouths.
FareShare already works with around 6,700 UK charities, from homeless shelters to lunch clubs to kids holiday schemes, with the 10,000 tonnes of surplus they have access to stretched seriously thin, and demand from new charities growing all the time. Around 270,000 tonnes more of good, edible food is out there, though. We just need to get it to them.
---
Food to go triumph of the year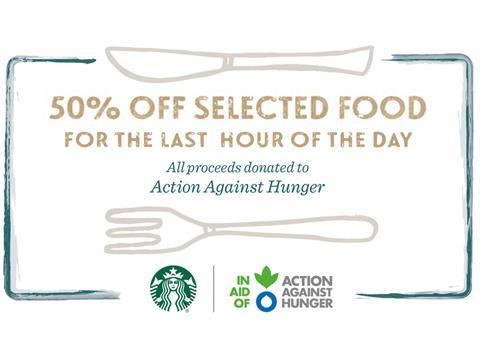 Starbucks steps up to the plate with discounts in last hour's trading
Only weeks after The Grocer highlighted the scourge of food waste in the QSR sector – with Starbucks one of several players named and shamed in our investigation – the coffee chain stepped up and took responsibility in August.
Around 350 of its UK branches are now slashing food prices by 50% in the last hour of trading, leaving scores more paninis, pastries and popcorn up for grabs at a fraction of the regular cost to punters, and keeping perfectly good food out of the rubbish bin. Proceeds will also be donated to charity Action Against Hunger.
The move will hopefully put a significant dent in the 76,000 tons of grab and go food currently wasted by UK high street joints at a staggering £277m cost, enough to whip up an extra 81 million caramel Frappuccinos every year.
Twitter and the tabloids were quick to congratulate the chain too, in what must've been a new, fuzzy feeling for a company so often berated on everything from its disposable cup waste to its complex tax affairs. But as The Grocer highlighted in June there is plenty more work to do on Britain's high streets with Subway, Burger King and McDonald's hardly redistributing a fast food meal between them.
A change in the law in January, masterminded by the British Sandwich and Food to Go Association, should also see some of the big barriers overcome though. From now firms selling sarnies, sushi or any other fresh food to go during the lunchtime rush, which would normally expire at the end of the working day, can relabel and redistribute, saving an estimate 2,000 tonnes of sandwiches alone. That's one less excuse not to follow Starbucks' lead.
---
Collaboration of the year
Asda's Surplus Swap shop is a Gumtree for waste
Ditching rivalry and working together is the only way to tackle food waste. So it was heartening to see Asda extend support up the supply chain in January with the launch of a Surplus Swap platform allowing its suppliers to buy and sell surplus food, such as leftover ingredients, finished products or trimmings. Operating a little like Gumtree, once a surplus product is uploaded on the app, any supplier that is interested in using the product can arrange to buy it.
Two months later Tesco offered similar support to its huge and complex supply chain with an innovative food waste hotline open to all 5,000+ businesses in its Supplier Network.
---
Creative solution of the year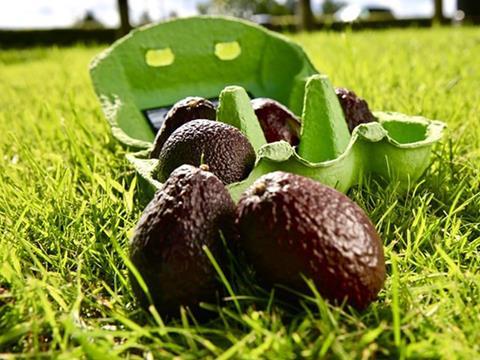 Tesco 'eggs' solve avocado waste problem
Given the appetite among millennials for avocados in all its guises (smashed, sliced, in smoothies) it's a wonder any go to waste. But they do. Particularly the baby ones, according to Tesco, which launched its novelty solution in August – snack-sized 'zilla eggs'.
Morrisons's marketing team had a similar bright idea at Christmas when it handed out 200,000 wonky carrots to help families' feed hard-working reindeer Rudolph.
In fact the big four all continue to expand their increasingly popular wonky veg ranges and to relax specs too, with Tesco agreeing to accept frost blemished apples only this week.
---
Crowdfunder of the year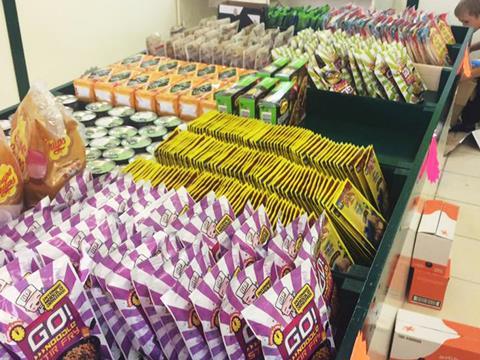 Supermarket Nifties looks to add branches
When every entrepreneur and his dog are turning to crowdfunding, it was heartening in April to see the platform used for something truly worthwhile. Supermarket Nifties, which collects damaged or short-dated food from wholesalers and manufacturers and sells them at heavily reduced rates, launched a bid to raise a measly £3,500 on crowdfunder.co.uk.
The cash was designed to fund new branches, it said, and would feed 50,000 families with food that would otherwise have gone to waste. Sadly the Dover social enterprise didn't reach its target, but continues to thrive regardless, adding home delivery to its repertoire recently too.
---
The slow coach award
FDF members finally put end to landfill use
It's been more than 20 years since the government recognised that dumping waste in vast holes in the ground is a gross environmental slur and taxed culprits accordingly.
So high are some gate fees (up to £145 per tonne vs £75 per tonne for AD and £100 per tonne for redistribution) that landfill is not only the most ecologically devastating route for food waste, it's also often the least economical for businesses.
Which raises the question: why did it take FDF members more than two decades to eliminate landfill from their waste streams?
It wasn't until 2015 that FDF members were able to cut out the practice entirely, said the body in its February update. In 2012, 3% still wound its way to landfill, following a meagre 6% reduction from 2009 to 2012. And even this only applied to those businesses that could be bothered to participate in the federation's annual Waste Survey. Less engaged suppliers likely chucked it in the bin.
Members had a "strong desire to go further," said the FDF, "reflected in new commitments aimed at shaping future value chains". About time too.
---
Fracas of the year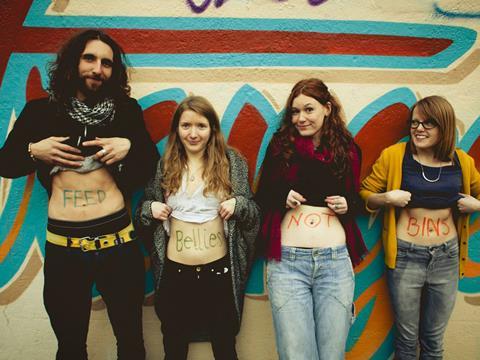 Real Junk Food Project in hot water for turning noses up at use-by dates
Straight-talking ex-chef and founder of the Real Junk Food Project Adam Smith found himself coming to blows with food safety officers in June.
Smith and the Leeds-based charity he set up in 2013, which sells surplus stock from its 'pay as you feel' cafés, have long turned their noses up at date labels, preferring to "smell, taste and visually inspect" food before chucking it out. A desperately needed dose of common sense, some might say. Sadly West Yorkshire Trading Standards didn't agree.
When officers claimed to have uncovered 444 items past their use-by date at the project HQ (cumulatively 6,345 days beyond their legal expiry date) authorities slapped Smith with the threat of prosecution and an invite to a formal interview under caution. Supermarkets suspended their links with the scheme, too.
Smith has robustly defended himself though claiming "we've fed more than one million people worldwide, with food that's past its given use-by date, but not one person has ever been sick."
The investigation is ongoing.
---
Lightbulb moment of the year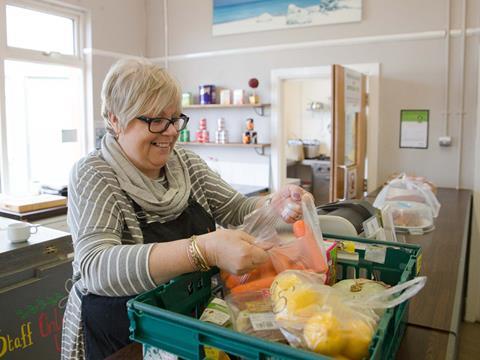 M&S on track to hit 20% reduction target with frozen food initiative
This isn't just food. This is M&S food. Scores more of which will be winding its way to hungry mouths after the retailer proactively sought permission from local authorities to freeze chilled food before it went out of date (in a safe, legally compliant way) freeing up tonnes more meat, dairy and ready meals from the restrictions of date labels.
The move helps put the retailer firmly on track for its new target of reducing food waste by 20% across its operation by 2020 – a new commitment unveiled in June as part of its updated Plan A pledge.
Responsible for 600,000 tonnes of avoidable food waste each year, it wasn't the only time pesky date labels reared their head either (see fracas of the year). But following work between Wrap and the FSA, new draft guidance was released in July that attempted to clear up confusion, with recommendations to stick to single labels per product and scrap 'Display until' stickers once and for all.
The new recommendations aren't likely to come into force until later this year, and some believe scrapping all but those related to food safety is the answer, but there is at least innovation in this space.
In July Sainsbury's launched 'smart' packaging on packs of ham: the new 'Smart Fresh' label changes colour from yellow to purple the longer the pack has been open and will appear on the mults' own-brand seven-slice cooked ham as part of its Waste Less, Save More scheme.
---
Saving of the year
Warburtons cuts wasted bread with IT upgrade
Allegations that supermarkets pile up freshly baked loaves purely to lure in shoppers rather than paying any attention as to whether all those rolls, wraps and bagels will be eaten are rife among waste campaigners. Leeds-based The Real Junk Food Project refused to pick up surplus breads in 2016 after finding supply outstripped demand from charities.
But in June Warburtons proved progress was possible. By replacing its ageing IT system, its forecasting improved from 79% to 86%; the tech predicts demand over a two-year period. The change drastically reduced the potential for waste and freed up staff, saving £430k in the process. Nice one.
---
Divisive move of the year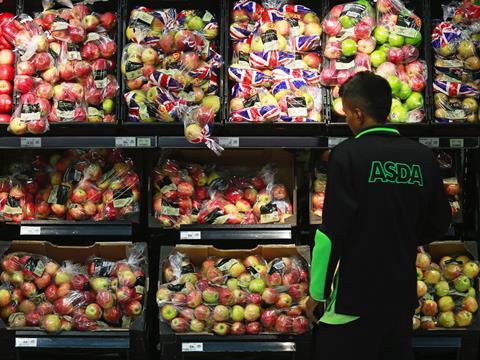 Asda in loose fruit & veg pack ban as Tesco is squashed
Asda opened up a can of worms in May when it announced a trial banning loose fruit & veg from its stores. Though the grocer insisted new smaller pack sizes would help shoppers waste less (and arguably keep food fresher for longer) campaigners slammed the move for forcing families to buy more than they needed.
Customers at its Bedminster branch were reportedly so incensed at the eco-implications they went on the warpath down aisles, tearing open packets of carrots, apples and potatoes in protest. Staying strategically quiet while the debate raged on, signs of a backtrack by Asda execs appeared only days after the controversial announcement, but the full results of the trial are yet to emerge.
An unrelated initiative from Tesco also resulted in its fare share of criticism. When Tesco unveiled its butternut squash stars – pre-packed squash shaped into stars to encourage kids to eat more veg – it caused quite the storm on social media too amid allegations that lopping food into shapes would cause waste. "Speechless at the stupidity," said one user. It's a good example of the ignorance that 'informs' social media debate: the squash actually used offcuts.
---
Allegation of the year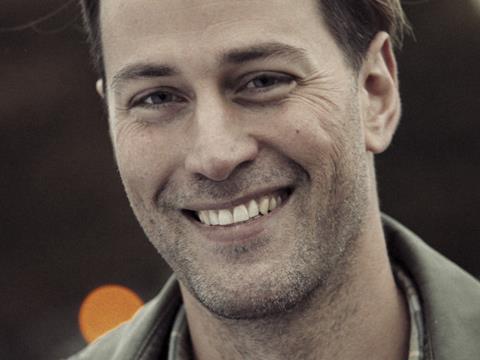 'Supermarkets shift liability to producers'
Campaigner Tristram Stuart ruffled feathers in October 2016 when he accused supermarkets of flouting the spirit of GSCOP by leaving primary producers with the full burden of wasted food.
Last-minute order cancellations and strict cosmetic specification left producers, some in the third world, with surplus stock, while the retailer had zero accountability, he said during a public debate with Sainsbury's CEO Mike Coupe. "All a supermarket needs to do to get round GSCOP is to insert a middleman and this carries on through the back door."
Coupe called the changes "extreme" and "blown out of all proportion," but he was visibly ruffled.
---
Setback of the year
Wrap faces up to household food waste increasing
Not long into the top job at food waste charity Wrap, CEO Marcus Gover found himself face to face with intrepid interviewer John Humphrys. An unnerving experience at the best of times. And even more so given the subject matter Gover was on air to discuss.
New figures in January had revealed that progress on household waste had well and truly stalled. Missing its Courtauld 3 target (to reduce household food waste by 5% between 2012 and 2015), Gover was forced to defend news that volumes of food chucked out by consumers actually rose by 300,000 tonnes (4%) in the two-year period.
With its Love Food, Hate Waste shopper initiative failing, Wrap needed a new plan. As Gover tells The Grocer in this week's Big Interview (p42-44), took months of combing through its years of insights to develop.
Ultra-targeted on the four most wasted foods (bread, potatoes, milk and chicken) and beginning with the most wasteful age group (millennials), Wrap believes the new strategy could get the momentum back.
Let's hope next time Gover gets a call from Radio 4's Today programme he will have better news.
---
Damp squib of the year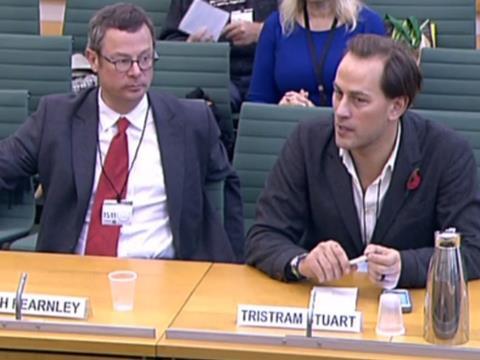 Surprise election lays waste to Efra committee's mountains of work
Piles of written evidence and hours of witness interviews – the Efra select committee were nothing if not thorough in their efforts to get to the bottom of UK food waste after being handed the job in 2016.
Public hearings saw Tristram Stuart slam supermarkets for failing to be transparent on how much food they chucked out and FareShare's Lindsay Boswell calling for far greater focus to be turned to manufacturers. Led by Tory Neil Parish, the MPs took witnesses to task too, with "wasteful" online multibuy offers lambasted.
Sadly, Theresa May threw a spanner in the works of the committee in April when she called a surprise general election. A week later and the Efra members had rushed out their findings before being unceremoniously disbanded and the results were, well, rushed.
The potential was there, with recommendations for requirements on business to reveal their data and a nod to a national food waste target. But it was all a tad half-hearted and ambiguous. And thanks to the election the government isn't required to respond to its findings either. What a waste.
---
Entente cordiale of the year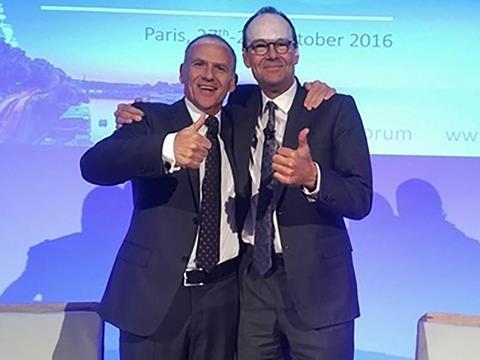 We'll always have Paris. Lewis and Coupe buddy up to fight food waste
Rarely do supermarket CEOs share the same stage. Or the same venue. Or have much to do with one another at all, frankly.
So it was all the more heartening in October 2016 to see two of the most influential faces in grocery stand side by side, manfully clutching each other in a wonderfully awkward show of unity, thumbs up and grins on for the cameras at the Consumer Goods Forum's first sustainability summit.
And what brought Tesco's Dave Lewis and Sainsbury's Mike Coupe together? Was it Brexit? Trump? A mutual distaste of all things discounter? Nah, it was food waste.
With both bosses delivering speeches at the Paris conference, the pair took a moment to put their professional rivalries aside and prove that waste trumps all. "The fact that both Mike Coupe and I are here, talking about food waste, is significant," said Lewis.
It wasn't the only waste-inspired truce either. Only months after 'Marmitegate' erupted, experts from Tesco and Unilever (as well as FareShare and Company Shop) appeared side by side in The Grocer's own Waste Not Want Not webinar debating transparency, innovation and the need to work collaboratively.
And in perhaps the biggest truce of all, UN initiative Champions 12.3 brought together 30 CEOs, government ministers and campaigners from around the world in an effort to halve global waste, delivering their first annual progress report in September 2016 and calling on all world leaders to take action.
---
Event of the year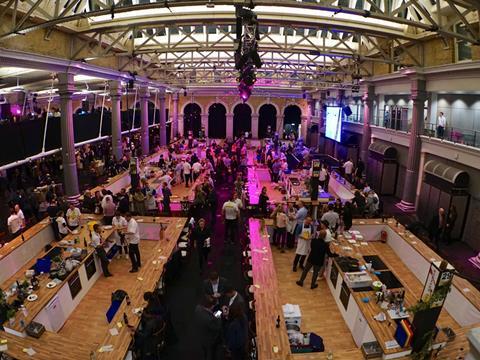 CEOs don their aprons to cook up a charity banquet of surplus food
Sixty CEOs and 30 chefs joined forces in March to cook up a banquet fit for a king. With a twist. Every ingredient stir-fried, sautéed or steamed for the 400 lucky guests at Old Billingsgate had to come from surplus food.
Masterminded by Jamie Oliver and redistribution charity UK Harvest, the CEO CookOff invited industry leaders to pay a contribution of £1,500 (plus a pledge to raise an extra £8,500 in sponsorship) to don their aprons and create something delicious out of waste, with a little help from some of the best restaurant chefs working in the country.
Proof that surplus food doesn't mean sub-standard fare, hundreds of 'unsung hero' guests feasted on guilt-free haute cuisine, raising half a million pounds in the process for both charities and ticking yet another box on Jamie's never-ending charity checklist.
Fmcg was well represented, too, with Andy Adcock of M&S, Ewan Venters of Fortnum & Mason and Brakes CEO Tom Christiaanse all rolling up their sleeves and getting stuck in. Donations keep climbing towards a £2m two-year target.
---
Convenience frontrunner
Co-op extends its ethical position to food waste
From a trial in just seven stores across the south east in 2016, the Co-op has rapidly rolled out its own food redistribution scheme, with branches in 2,500 UK towns and villages set to send surplus food to local causes via FareShare from April.
More than one million meals were shared by the retailer last year from its depots alone, and the new national back-of-store scheme is expected to reach over 2,500 charities and deliver 8,500 tonnes per year – more than any other convenience retailer.
The move will "dramatically reduce food waste" as it works towards an ambition that no food fit for consumption goes to waste.
---
Ambitious target of the year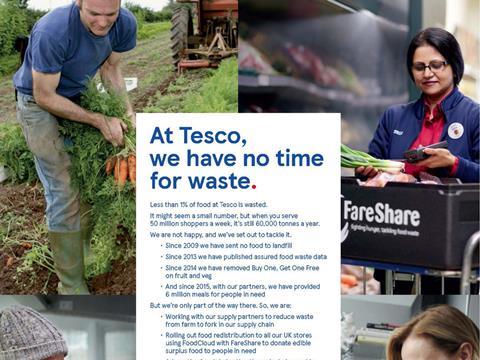 Tesco battles to eradicate edible surplus
Say what you want about the UK's biggest grocer (it has no shortage of critics), but it's made some exemplary moves on waste. It was the first to reveal its food waste data (three years before Sainsbury's), its CEO champions UN efforts to slash global waste, and in 2016 it committed itself to eliminating edible surplus from its stores by the end of 2017.
We have three months left to see whether it managed it (when last speaking to The Grocer, Dave Lewis thought he may struggle with the last 3,000 tonnes) but it's a bold, stretching and painfully public target regardless, which Tesco should be applauded for.