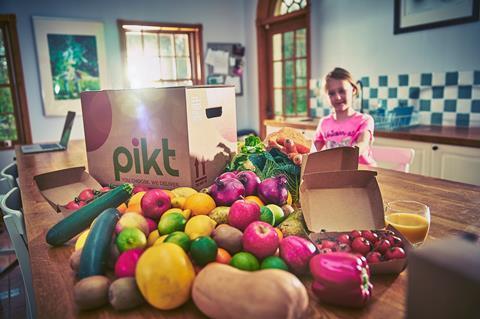 Lincolnshire-based organic fruit & vegetable supplier SunFresh Produce has launched a nationwide direct-to-consumer delivery service in a bid to disrupt established brands like Riverford and HelloFresh.
The B Corp-certified company's new subsidiary, Pikt Fresh, offers a range of three box-types aimed at different environments – home use, bar or catering services, and "social gathering" occasions, for example in workplaces.
The boxes are also Soil Association-certified and are the first product of their kind to carry the Plastic-Free Trust Mark, according to CEO Matt Godfroy.
In a bid to achieve its ambition of limiting waste, Pikt boxes will allow customers to select "smaller" portions of produce than its competitors, which "sell standard retail size formats".
Citing the sale of limes as an example, Godfroy said: "It's frustrating, you only want two limes. You're not an alcoholic. You don't need eight limes for a gin and tonic."
Customers will be able to order produce online for the following day before an 8am cut-off. The boxes, which are made of cardboard and contain either punnets or paper bags, are then packed and dispatched for delivery the following day.
Sunfresh said its boxes would be delivered by DPD because the delivery company carbon offsets its business. Consumers also have the opportunity to do the same if they order imported products. At check-out, there is an option to pay £2.25 as a 'carbon offset climate fee', which will go to Climate Care, a company specialising in carbon offsetting.
This new sideline marks a major shift away from SunFresh Produce's current business, which is focused on supplying organic salad, fruits and vegetables to retailers.
"We wanted to do something exciting, fun and direct to customers," added Godfroy.
"We've really tried to tick every single box that everyone is looking for – they're looking for a business that's got integrity and is not just about shareholder pockets."