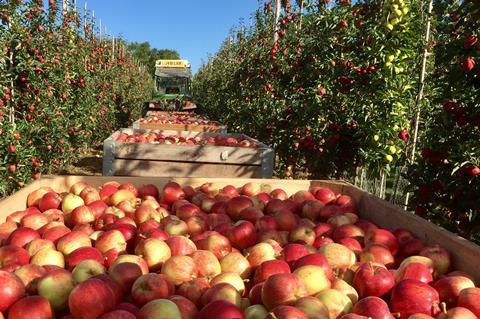 Top fruit grower AC Goatham & Son has warned the government's new immigration proposals will cause "massive disruption" to fresh produce supply chains, citing its own struggles to recruit British workers.
In an open letter sent to local MPs and government ministers last week, the grower's board expressed "extreme disappointment and quite frankly disbelief" with the new system – which would see up to 70% of the existing EU workforce not meeting skilled worker criteria, according to the government's own data. The new immigration rules are due to come into force in January 2021.
Goatham said that despite a big annual push to secure local workers on social media and at both regional and national careers fairs, it only gets "a handful of applications from British people".
The Kent-based firm added that the Seasonal Agricultural Workers Scheme trial was still "woefully short" of providing enough seasonal labour to meet the UK's current needs, despite Defra secretary George Eustice confirming it would be extended to 10,000 people this year. The NFU estimates some 70,000 to 80,000 workers are required every year.
"Our business only operates with the flexibility and continuity which a hard-working and willing seasonal workforce provides. This is also one of the key reasons for the successful growth of the British fruit industry in recent years," read the letter.
"It is quite simply staggering that…the Conservative government is happy to preside over what could be the demise of a successful fresh food production industry by not continuing to support growers to help source the seasonal labour they depend on.
"Put simply, without continued access to seasonal harvest workers we have no business and our business is one that significantly contributes to the local and national economy."
The firm said it currently recruits 800 to 1,000 seasonal workers across its 25 farms in Kent, with almost all of them having come from the EU in 2019.
It added that its seasonal workers earned an average of £9.45 an hour over a typical 12-week period last year, well above the current minimum wage and the new national living wage due to come into force in April.
Goatham's letter echoes one published by fresh foods merchant Nationwide Produce's MD Tim O'Malley last month. He said: "I suppose we should at least be grateful that the government have lowered the [immigration salary] threshold to £25,600 but the problem remains, where are we going to find workers from for our industry?
"I think we need to be realistic, accept it and, above all, budget for it properly and charge customers for it accordingly."
The letters come after February's announcement of a new points-based immigration system, which the government said would "end the reliance on cheap, low-skilled labour coming into the country".