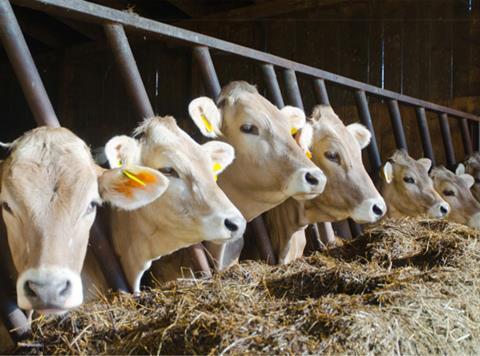 As farmers on the Somerset Levels continue to battle with flooding, experts have warned the wet weather could affect the health of the region's livestock long after the floods are gone.
Insurance underwriter Aegis said there was a risk the flood water would spoil stored animal feed; kill vegetation used for grazing and feed production; deposit harmful chemicals and bacteria on fields and pastures; injure animals with plastic and metal debris; encourage parasites and pests; and generally foster conditions in which disease becomes a higher risk.
Farmers in the worst-hit areas have had to move cattle and sheep to safety in recent days – a stressful experience in and of itself for the animals – and there was a danger animals would be forced to venture outside their usual diet, including – possibly – resorting to potentially poisonous plants, Aegis said.
"In addition, we may see increased occurrences of diseases such as pneumonia, listeria and black leg in cattle," added livestock underwriter Sophie Dunkerley. "With local farmers' finances badly affected by the flooding, the slaughter of diseased animals may be more cost effective than treating them.
"What we really need is a cold spell and then a long, hot summer to dry the Somerset Levels, thus killing off many of the microbes and insects that cause disease."
Pete Garbutt, the National Farmers' Union's chief livestock adviser, added: "As well as the short-term issues with the moving of livestock, the flooding of sheds with livestock and feed in them and the potential for flooding of things like farm slurry stores, the long-term damage that this prolonged flooding is doing shouldn't be under-estimated."
Appeals for support
Flood-stricken farmers have taken to social media over the past days to raise awareness of the damage caused by the floods and appeal for help with fodder, straw and animal transport.
Avon & Somerset Police to help farmers with movement of vulnerable animals on the flooded #Somerset levels. pic.twitter.com/0Axq9EVhcf

— BBC Points West (@bbcpointswest) February 7, 2014
#moorland #fordgate The water is now 2 fields away from our farm by looking at this photo! 60 cattle still on farm!!! pic.twitter.com/FgnI0uQ09N

— James & Becky's Farm (@SouthWestFarm) February 7, 2014
Somerset farmers need wagons to transport fodder NOW @Tesco @asda @Morrisons @marksandspencer @waitrose @sainsburys pic.twitter.com/sy56oMQcS0

— Visit #OurCowMolly ! (@OurCowMolly) February 7, 2014
Meanwhile, the NFU has opened its fodder bank, an online exchange that allows farmers to buy and sell surplus fodder.
NFU president Peter Kendall today welcomed the government's announcement that it would spend £130m on flood maintenance and repairs, but said more help was needed. The current dire situation in Somerset was the result of "two decades of underinvestment", he said, adding: "We must see a re-balancing of flood defence spending towards maintenance, which has declined by £49m over the last five years, as part of the aim to reduce the severity of flooding."