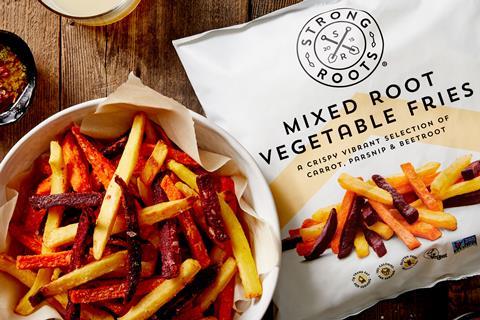 Fast-growing frozen brand Strong Roots has doubled its presence in the US following a listing with Walmart.
The Irish supplier began rolling out its Cauliflower Hash Browns and Mixed Root Vegetable Fries earlier this month to 2,000 Walmart branches – about half of the retail giant's US estate. The locations are concentrated on the east and west coasts and in southern states and the Great Lakes area.
Strong Roots was "incredibly proud to partner with this iconic American company to bring our range of plant-based food to families across the US" said the plant-based brand's founder and CEO, Samuel Dennigan.
The deal with Walmart means Strong Roots is now available in around 4,000 stores across the States, having made its debut there last October. It landed in the likes of Safeway and Wegmans supermarkets, after securing £15m in private equity funding to support the move.
The Irish brand's products are currently made by third parties in North Carolina and the EU. It expected to sign up as many as five more US manufacturers within the next six months, Dennigan told The Grocer.
Strong Roots, which launched in Dublin five years ago today (23 September), expects its wholesale revenues to exceed £78m globally by 2023 – a 233% increase on predicted sales for this year – with 50% to 60% coming from the US.
There were more than 130,000 potential retail outlets for Strong Roots Stateside, Dennigan said. The brand's current reach "was just a drop in the ocean compared to what it could be".
Strong Roots – which is listed across the UK mults – was currently working on NPD in the US that would "probably emerge in the spring" he added. It would be "closer to meat alternative without being alternative anything".