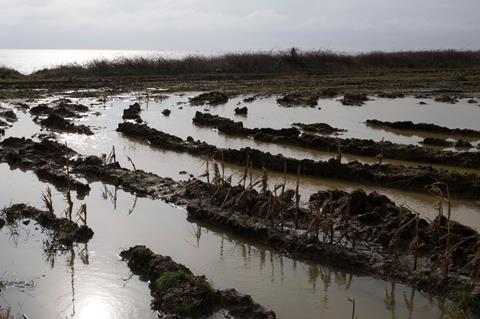 British carrots are at risk of running low next year, with poor weather threatening the spring harvest.

More than half the UK's carrot-growing areas have been hit by recent flooding, with East Anglia and Scotland the only areas that avoided damage.

It interrupted a strong growing season, with both yields and quality above average until the autumn. But after the recent heavy rains, prices are now up 3% month on month to £0.37/kg on 20 November [Mintec].

Farmers have now warned further cold weather could wipe out large amounts of the crop as they have been unable to lay straw to protect against frost.

"It was the inability to cover them up with straw that really caught us out," said Rodger Hobson, chairman of the British Carrot Growers' Association.

"The last time we had a problem like this was in 2000. We've had four frosts already; many more and the carrots will be unsaleable. I think we could be short a month's worth."
However, Hobson believes customers are unlikely to see any dramatic price impacts. "If the British supply isn't there, they'll just need to come in from abroad," he says.

Mark Strawson, one of the UK's biggest carrot growers, says "unprecedented" rainfall has "made field operation extremely difficult with very few entirely dry days recorded over an eight-week period".

The soggy autumn also hit brussels sprouts, with prices up 29% to £1.80/kg on 20 November [Mintec] - a jump likely to hit Christmas shoppers at their peak.

"Brussels have had a tricky time this year but our farmers have worked incredibly hard to make the best out of a bad spate of weather," says Waitrose sprouts buyer Lucy Broughton.

"It's caused quality issues as well as affecting the harvest significantly," adds Andy Weir, head of marketing at wholesaler Reynolds.