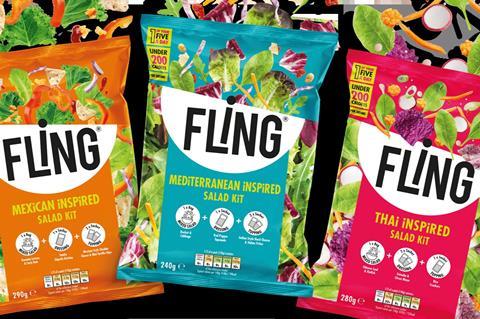 Sussex-based salad supplier Natures Way Foods has launched a trio of kits designed to shake up the "boring" bagged salad category.
Inspired by "flavours, tastes and textures from around the world", the supplier's Fling kits went on sale exclusively in Tesco earlier this month.
They comprise a 280g Thai-inspired kit with rice cracker topping; a 290g Mexican-inspired kit with tortilla chips and cheese topping; and a 240g Mediterranean-inspired kit with cheese and habas fritas topping (rsp: £2 each). The kits also contain a salad leaf mix and relevant dressings.
Taste generally featured very low for consumers when buying salads, with most shoppers accepting the category was a healthier option but not necessarily the tastiest option, according to research for the supplier by Bridgethorne Research last October
But unlike standard salad mixes, Fling delivered both on taste and health, said Natures Way Foods chief commercial officer Cara Whitehead, and would capitalise on the popularity of the currently buoyant £460m [Kantar] prepared salad market.
"We believe that salad can tantalise the taste buds. Our brand ethos is about offering consumers excitement, flavour and a convenient nutritious meal solution. Fling is more than a bit on the side," she added.