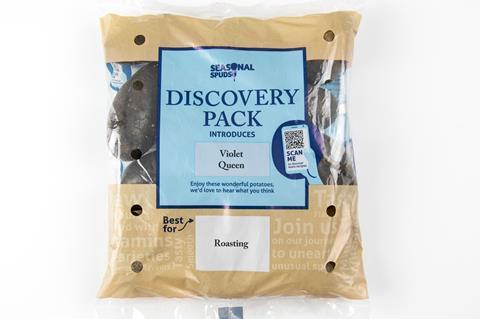 Major potato supplier Branston is to launch a new purple potato variety into Tesco as part of a wider initiative to introduce more potato varieties to the market.
The Violet Queen, available from now until mid-April in selected stores, is said to be ideal for roasting or mashing (rsp: £1/750g).
It will be the first variety to be sold in Branston's new Seasonal Spuds Discovery Pack concept, whereby the supplier will introduce new seasonal varieties to consumers.
Shoppers can then provide feedback on the products either on a dedicated website, via an on-pack QR code or by tagging it on social media channels.
"There are more than 3,000 different varieties of potatoes in the world and UK growers tend to focus on just a few popular ones," said Jackie Baker, communications manager at Branston.
"Our potato experts try to unearth more interesting and unusual spuds for people to try. However, unlike your everyday potatoes, they're only grown in limited amounts. Our first small crop of Violet Queen potatoes and our Discovery Pack concept is the perfect way for us to define their popularity and decide whether to grow even more."