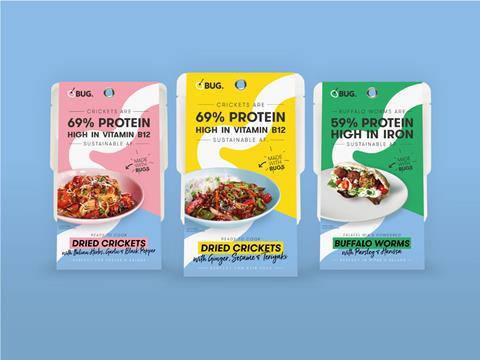 Edible insect start-up Bug has flown past a £300,000 crowdfunding target as it readies a full-scale launch of its recipe kits online.
Founded in 2018 by Leo Taylor and Aaron Thomas, the business has ambitions to become the UK's "go-to" brand for edible insects.
Bug will overfund on the Crowdcube platform up to £400,000, valuing the business at £1.3m.
Currently, at the time of publishing, 460 investors have pledged just more than £396,000. The business secured £260,000 of the total from a mixture of angel investors and a private equity fund prior to the campaign launching.
Bug said in the Crowdcube pitch that despite being eaten in more than 80% of countries by more than two-billion people, there was currently no easy way to incorporate insects into Western diets.
It hopes its recipe kits will create a solution for consumers.
Last year, the start-up unveiled a bean & mealworm burger recipe kit as it tested the concept. On the website, other recipe cards include cricket & kale pesto rigatoni, mealworm goan curry and fluffy buffalo worm pancakes.
It has also developed a range of ready-to-cook insect packs of dried crickets with sauce to add to stir fries and buffalo worms falafel mix.
Bug will use the money from the crowdfunding campaign to hire three additional employees, launch its kits and move into a kitchen studio where the business can shoot insect recipe content to build brand awareness on social media and other platforms.
Initially planning to sell the kits DTC, Bug also plans to expand into retail and foodservice by 2022.
"We are so thrilled at the absolutely phenomenal support we've had from investors and our community," said CEO and co-founder Leo Taylor.
"Bug started out with Aaron and I cooking and shooting insect recipe videos out of our garage for fun. It's been a totally wild journey turning our passion and hobby into our day jobs – and we're so grateful to be able to show the world that insects are really just tiny sustainable nuggets of deliciousness."