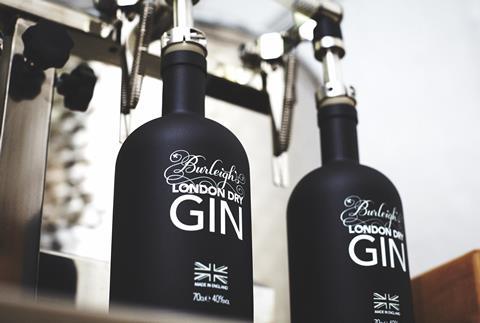 Craft brand Burleighs Gin has hit a £100,000 crowdfunding target to expand into the booming 'low & no' category with a non-alcoholic variant.
The Leicestershire business has a core range of four London dry gins, as well as official partnerships with Leicester City FC and Leicester Tigers RFC, and the Marilyn Monroe estate.
It plans to use the money from the Seedrs campaign to develop a non-alcoholic gin and a ready-to-drink' G&T can.
Burleighs has so far raised £110,000 from investors on the Seedrs platform, giving away 4.5% equity and valuing the business at £2.3m.
The majority of the money was raised from two private investments, with only about £20,000 coming from the crowd.
Commercial director Sam Watson said the business planned to follow the Seedrs round with a series of further raises to assist with the growth strategy.
"Despite the impact of Covid, 2020 has been a year of great progression for Burleighs Gin," he added.
"The success of our crowdfunding campaign with Seedrs will now allow us to further drive our growth and progress with a number of projects. The next steps are for our business to expand our range with miniature variants of our core range, ready-to-drink gin & tonic cans and a number of carefully curated collaboration projects."
Watson is running the business in partnership with asset management firm Prydis. The founders, who started the brand in 2014, have taken a back seat and are not involved in day-to-day operations, but remain as shareholders.
Turnover at the business totalled more than £700,000 in the 2019/20 financial year, with wholesale its biggest route to market.
Alongside its established wholesale network of Matthew Clark, Enotria & Co, Carlsberg and Molson Coors, the brand has recently expanded into the grocery market with listings in Ocado, Waitrose, and the Co-op.
In August, it won a new local listing in the Midlands with Morrisons to stock the signature London Dry Gin and the Leicester City and Leicester Tigers variants.
Burleighs halted a previous £250,000 crowdfunding round on the Crowdcube platform last year, despite raising almost £500,000. The business said a re-classification of a large investment that could not be listed against the campaign meant it had to be pulled.