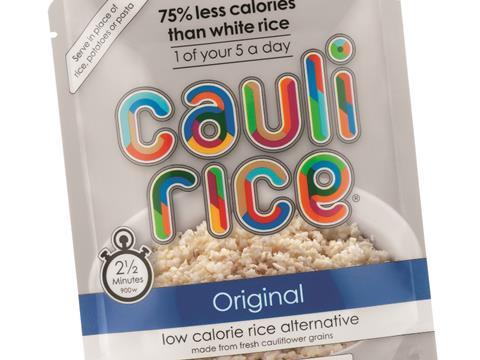 Cauli Rice has smashed its £400,000 target for its fourth crowdfunding round, within 24 hours of launching the latest campaign.
The alternative rice brand is currently (late afternoon 7 February) 69% overfunded on the Crowdcube platform, with £677,000 pledged by 483 investors for a 7.8% equity stake in the business.
It plans to use the money to push on with its growth plans, which includes expanding exports and introducing new Cauli Rice variants, microwavable rice pot ready meals and other veggie rice pouches, leading with sweet potato rice in early this year.
Cauli Rice has raised more than £2m across four rounds of crowdfunding stretching back to September 2014, using the proceeds to help secure a global patent for its technology, which gives the product a 12-month shelf life without the use of preservatives or additives, build a production line and launch into UK supermarkets.
"The business was started at our kitchen table and we needed a lot of funding to turn the idea into a reality," co-founder Gem Misa said. "We opted for this way of fundraising rather than approaching banks or VCs because of the power of the crowd.
"We now have close to 1,500 investors from all around the country who are personally invested in our business and want to see it succeed. We're amazed at how many people have decided to invest in the company, with over 50% of the amount we raised from returning investors."
Cauli Rice, The Grocer's top launch in Top Products Survey in 2015 for the rice, pasta and noodles category, was the fastest-growing UK rice brand in 2016 [Nielsen] – its first full year of trading. It sold more than 1.2 million pouches from a starting base of close to zero after winning 2,800 supermarket listings across the big four and Waitrose.
The business generated revenues of £1.5m in 2016, missing projections of £2.9m made in October 2015 during its previous crowdfunding campaign. It said in the latest pitch that this was down to timings of a major listing, with 1,500 of the 2,800 stores going live in the last three months of the year.
It also made a pre-tax loss of more than £900k last year as it invested heavily in getting the product to launch stage and into stores.
Cauli Rice expects to be profitable this year, with sales forecasted to grow 47% to £2.2m.
"Unlike a lot of businesses which have been negatively impacted by Brexit, Cauli Rice is manufactured in the UK and sources from UK farmers so our costs have remained relatively stable and the lower value of the pound has even helped improved our profits from exporting," Misa added.
The brand is already exporting to Spain, Portugal, Switzerland, the Middle East and the US, where is launched in 100 HEB Texas superstores in December.
"The plan is to keep growing at this aggressive pace," said Misa, a former Unilever brand manager who launched the company with her husband Jamie Harris.
Funds from the latest Crowdcube round will also be used to help the business expand its range into other vegetables, using the same long-life technology, under its new master brand, Full Green.
Cauli Rice, a Defra 'British Food Pioneer', is made using cauliflower and has 75% less calories than ordinary white rice.