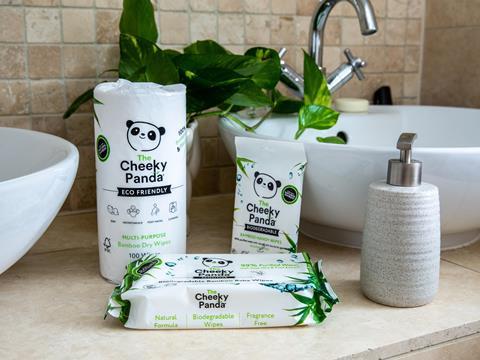 Eco hygiene challenger The Cheeky Panda is lining up a potential blockbuster £300m IPO on London's junior market next year to capitalise on high demand for green, sustainable brands.
Chris Forbes, who founded the business with partner Julie Chen in 2016, said he expected Cheeky Panda to grow large enough to compete with the biggest players in the household paper category.
The company is working with KPMG on an IPO strategy and is running a dual-track process, which includes plans to either float on AIM next year or raise money in a private placing followed by a much bigger flotation on London's main market in 2023 or 2024.
The ambitious plans would be a first for a crowdfunded business, with its thousands of crowd investors in line for bumper payday.
Cheeky Panda this week closed a £2.5m crowd round on Seedrs, where it has been trading existing shares on the platform's secondary market. It takes the total funding from the crowd to £7m and values the brand at £80m, up from £5m in its first campaign.
Forbes is currently speaking to numerous investment banks and brokers to run the IPO process.
Valuation expectations for the company, which makes toilet paper, kitchen roll, tissues and baby wipes from bamboo, are predicted to be from £150m to £300m for an AIM float and from £300m to £600m if it goes down the main market route.
About 25% of the business' shares will be available for public trading, with about £35m to be raised on AIM or between £100m and £150m on the primary exchange.
The founders, early angel backers and crowd investors will share about 20% of the spoils, with the remaining 80% to be invested in the brand's global growth.
The business has grown rapidly over the past three years, with sales racing from £100k in 2017 to £5.7m last year, its accounts show, with a 200% jump in 2020 fuelled by increased demand for hygiene products in the pandemic and new retail listings.
Revenues are set to hit £12m this year and forecast to surpass £20m in 2022 and reach £50m by the end of 2023.
Forbes plans include owning and operating bamboo farms around the world to create a vertically integrated supply chain.
"The paper category has not been disrupted in decades," he told The Grocer. "We believe we can stand alone in the market against the big guys and become a mainstream player.
"Global consumers are looking for high-quality products that make them feel good. Our rate of repurchase is exceptionally high once people have tried the brand. And then we get adoption across the product range moving from toilet paper to tissues or kitchen towels.
"We have big ambitions for this business and there is a lot of investor interest in a pure-play green company going to market.
"We think we're being conservative with our forecasts. We're comfortable – because of the size of the category and where the consumer trends are – that we'll get to a market cap of £1bn in five years."
Cheeky Panda sells its products across Europe, the US, China and the Middle East at retailers including Waitrose, Boots, Ocado, Amazon, MonoPrix and Carrefour.