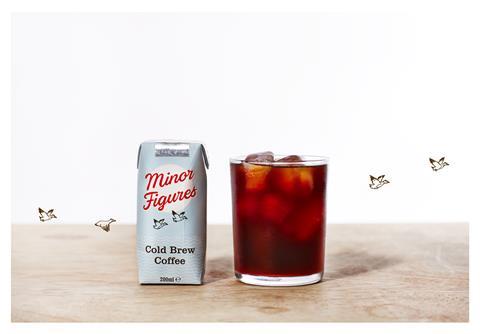 Two UK drinks companies are looking to take advantage of the rapidly growing trend for cold brew coffee after raising more than £260,000 on a crowdfunding website this week.
Sandows, which is aimed at the premium market, hit its £100,000 target within 48 hours of launching the Crowdcube campaign, overfunding up to £124,000 and giving away an 18% stake in the process. Minor Figures, launched last year by Jonathan Chiu, former MD of tea business Make Mine a Builders, also brought in an extra £39,000 on its £100,000 target for 17.2% equity and is aiming to bring cold brew to the masses.
Both companies, which are forecasting sales of £200,000 to £300,000 each in 2015, are already stocked by the likes of Selfridges, Harvey Nichols and Whole Foods Market, with a fridge dedicated to Sandows in Fortnum & Mason, as well as in independent shops and cafes.
Sandows and Minor Figures plan to use the Crowdcube cash to open London brewing sites, increase stock levels, shore up working capital and invest in NPD – with Sandows looking to launch a 750ml SKU and Minor Figures to bring out a version with milk.
The product is made by steeping coffee grounds in cold water for up to 24 hours to slowly draw out the flavour and then diluted and served chilled. Its popularity in the US in 2014 caught the attention of Selfridges.
Buyer Leah Anderson-O'Loughlin said the "explosion" stateside meant the retailer was keen to get something on its shelves. "It is a huge trend with loads of potential and we will likely see the same reaction in the UK and Europe," she said.
"Cold brew coffee was the biggest coffee trend of 2014 and is set to explode in 2015," Jonathan Chiu added.
Sandows founder Hugh Duffie, who launched the brand with fellow barista Luke Suddard in 2014, said there had been a "huge move" in the drinks market towards premium products. "I think cold brew coffee has the potential to really strengthen that market," he added.
The company was now "really gunning" for Ocado and Waitrose listings, but Duffie said the short-shelf life of the chilled drink posed a challenge, with some of the investment to go into extending the expiry date.
Minor Figures has sidestepped this problem by opting for a Tetra Pak carton with nitrogen in the head to extend its life to up to nine months. It also opens up export potential, according to Chiu, with a focus on Australia, Denmark, the Netherlands, Ireland, Germany and the Middle East in particular.
He added that the packaging and the cheaper price point of Minor Figures meant the brand could take aim at the mass market. "We're looking to more high volume and to be less exclusive in our approach," Chiu said.