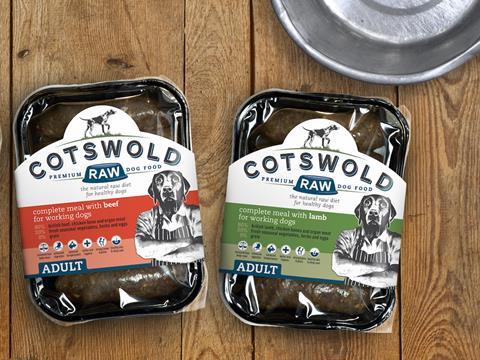 Premium dogfood startup Cotswold Raw has secured backing from unnamed private investors after its crowdfunding campaign failed to hit its £250k target.

The supplier launched the Crowdcube pitch in January but only 160 investors had pitched a total of £175k as the deadline approached.

Cotswold managed to raise the full amount elsewhere, which it is using to increase capacity at the 7,500 sq ft facility in Worcestershire.

The business produces more than three tonnes of sausages and mince for the raw dogfood product each week.

"We had a very busy time with the campaign and benefited greatly from the increased spotlight on what a healthy raw diet can bring to pets," said MD Mark Lewis. "Ultimately, we had a much smaller number of private investors that wished to invest the capital we required, whilst also bringing external skills that will be incredibly useful for us."

Details of the investors are undisclosed at present while the investment undergoes due diligence.

"We have been extremely pleased with the response to our crowdfunding campaign," Lewis added.

"Not only have we had pledges for £175,000 from over 160 individuals, we have also signed up many new customers to a healthy raw-fed diet. The process of preparing for the crowdfunding campaign generated a number of leads for investment already known to the business.

"The investment gives us the immediate ability to increase our production capacity at our production site and make improvements to our packaging and distribution requirements."

Launched at Moreton in Marsh country show in September 2015, Cotswold supplies 90 independent retailers - and is chasing listings at bigger supermarkets - with sales for 2017/18 forecast to hit £1m.

The business has already raised close to £600,000 in private funding to date, which it used to build the brand and production facilities.

Cotswold also has plans to develop a catfood recipe to double its customer base.