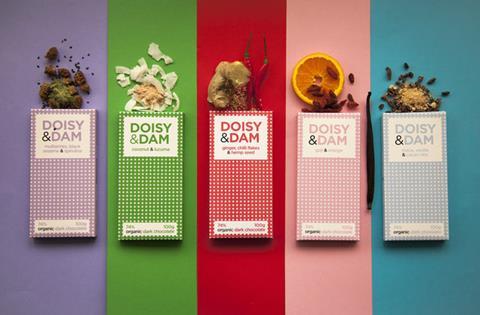 Premium organic chocolate brand Doisy & Dam has raised £300,000 in 28 hours after turning to the crowd to fund its expansion plans.
The Norfolk-based chocolatier launched a Crowdcube campaign to raise £150,000 but more than doubled its target thanks to strong demand, with 80 investors taking a 15% stake in the business.
Growth plans at the business, founded by Edward Smith and Richard Wilkinson in 2013, include increasing the number of stockists from 400 to 1,000 by the end of the year, investing in NPD to increase the on-shelf presence and targeting supermarket listings in early 2017. Smith and Wilkinson also have ambitions to begin exporting next year.
"We're really happy with the result," co-founder Ed Smith told The Grocer. "We didn't bank on such overwhelming support from our customers and fans. We've been working on proving the concept of high-quality, organic luxury chocolate with no nasties and added superfoods and we feel like we've achieved that – now it's time to expand. It's a little daunting but really exciting."
The brand is currently stocked by Ocado, Whole Foods, Planet Organic, Selfridges and Harris + Hoole, as well as a raft of independent delis and health food stores along with on-trade listings in cafés and gyms.
Since inception Doisy & Dam has grown the range from three to 10 flavours of dark, milk and white chocolate sourced from the Dominican Republic, including Coffee & Sprouted Buckwheat, Maca Vanilla & Cacao Nibs and Lemon, Poppy Seed & Baobab.
"We've been foodies for a long time, superfoodies for a little less time, but we wanted to create a product that had the nutritional benefits of natural, good foods and the delicious taste of an indulgent product," Smith added. "We didn't believe in the idea that you have to sacrifice taste to create a natural and good food."
Doisy & Dam's long-term aim is to move in to different food categories using superfoods to make indulgent, healthy snacks.