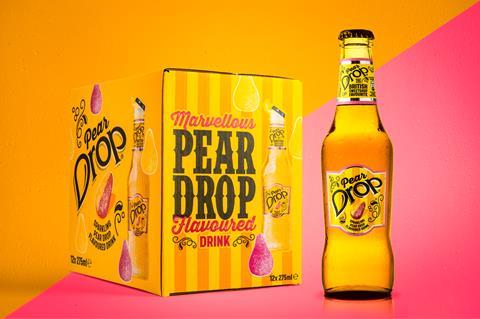 Vintage-inspired soft drinks startup Drop Drinks has launched a crowdfunding campaign to fuel a range expansion.
The company, which produces soft drinks and mixers inspired by traditional British sweets, took to Crowdcube seeking to raise £80k in exchange for 2.4% equity – valuing the business at £3.2m.
It will use the cash injection to fund the launch of three more soft drinks – Cherry Drop, Lemon Sherbet and Cola Cube – to accompany its flagship flavour Pear Drop.
"These drinks have already been developed and are ready to launch, but we need the funding to buy labels, bottles and ingredients before we can launch them," founder and CEO Mohammed Ali said. "As soon as the funding comes in, they are going straight into production."
The Pear Drop flavour was released in July 2019 and has so far sold over 20k units, with orders for a further 300k bottles.
Drop Drinks plans to expand the range to a total of eight flavours, "all fitting with the old-school nostalgia concept", with four more to be unveiled in 2021.
"These flavours are aimed at offering adults a form of escapism from the stress of everyday life. You have a sip and it takes you back to the carefree days of your childhood," Ali added.
The campaign has so far raised over £66k from 62 investors, but Ali hopes to "significantly overfund" up to £250k.
The additional cash will accelerate the business' plans and fund the rollout of automation features, for labelling and filling, within the company's factory.
Drop Drinks has just signed a deal with wholesaler Pallet Price to supply cash & carry and wholesale operators such as Booker and Bestway.
The brand has also agreed a few exports deals, with orders to be shipped to Nigeria and the Netherlands shortly. Further interest has been received from the US, Canada and Greece, among others.