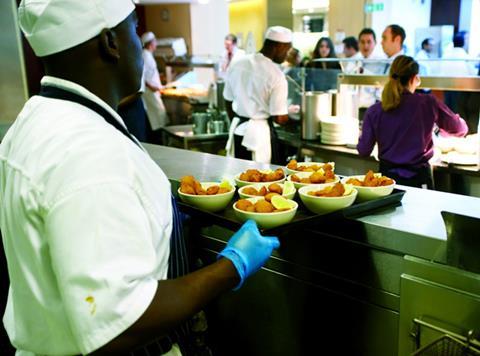 Food and drink companies have raised almost £1.9bn in emergency financing from the Bank of England's Covid Corporate Financing Facility.
Publishing details of companies that have accessed the CCFF programme for the first time yesterday, the Bank of England revealed 53 companies had borrowed £16.2bn as of 3 June.
The programme sees the bank buy short-term (commercial paper) debt from larger companies, with the loans repayable at rates of between 0.2% and 0.6%.
In total, eight food and drink producers or retailers have accessed the programme to date.
The largest borrower in the sector so far is FTSE 100 catering giant Compass Group, which has borrowed £600m under the programme.
Other large listed companies to have accessed the facility include Greggs (£150m), Marks & Spencer (£260m), travel food to go group SSP Group (£50m) and brewers and pubcos Young & Co (£30m) and Fuller Smith & Turner (£100m).
All these companies have seen their businesses severely affected by the coronavirus outbreak as outlets shut under lockdown measures.
Waitrose owner John Lewis has also borrowed £300m under the programme, while privately held food and distribution giant Brakes Bros has received a £400m injection from the scheme.
The borrowing from food and drink companies represents about 11% of the total funds loaned to date.
Other retail names to have accessed the cash include Burberry (£300m), Chanel (£600m) and Asos (£100m).
In total, 152 businesses have been approved to access the facility, though 99 have yet to draw down any cash.