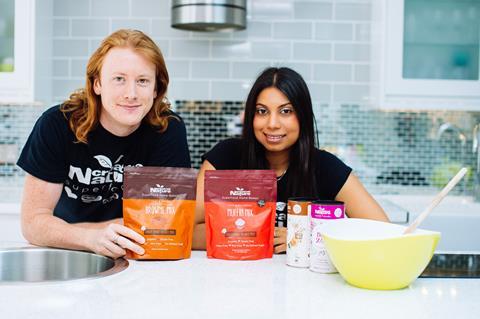 Free-from brand Creative Nature has reached out to the crowd for £350k to expand its export business and increase production.
The manufacturer produces vegan baking mixes and snack bars, which are also free from the 14 most-common allergens, including dairy and gluten.
Julianne Ponan founded the supplier, which was voted FSB small business of the year last year, in 2014 after struggling to find alternatives due to her own allergies.
Listings in Asda, Sainsbury's and the Co-Op have helped to rapidly grow the business, but it has called out for more funds ahead of new product listings in Sainsbury's as well as a planned listing with another major UK retailer later this year.
It has reached out to the crowd for £350k at an equity of 6%, valuing the growing business at around £5.5m.
Funding will also go towards developing a new online subscription service and expanding internationally, following on from current listings in Malta, Germany and other regions.
Sales are currently growing at 68% for the year and are currently forecast to reach £1.4m for 2018, the founder said, with new product launches and listings still ahead in coming months.
"The business has grown from strength, and the export market is somewhere we are really growing a lot," said Ponan. "One of our major things with the investment, is to use to expand more internationally.
"We've become more established in the UK, and with Brexit on the horizon, we've been advised that now is the time to building our export business.
"We also just want to invest in order to market Creative Nature more, attending more industry shows and making more people aware of our products. We are increasing our ranges, so really want buyers and customers to be aware of these."
The crowdfund campaign launched on Monday 24 August, and has thus far raised £300k, 86% of the funding target.
The company appeared on Dragon's Den last year, securing a £75k investment from Deborah Meaden for 25% equity, but the parties decided to part ways shortly after the show, when two major listings led the company founder to revalue the business.