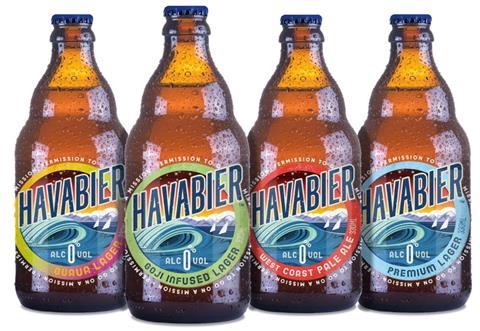 Three start-ups in the burgeoning no & low alcohol category have successfully raised almost £1m combined from the crowd.
Havabier is raising funds on Crowdcube to launch a range of 0% alcohol beers to market. At the time of publishing, 92 backers had committed 98% of the campaigns £174k target. As well as being alcohol and gluten free, the beer is also infused with nootropics.
The business has soft launched to road test the product but has plans for a national marketing push.
Co-founder and creative director Pat Starke said "We are in production with one product now but the crowd campaign will enable us to properly go large. We are also applying for halal status as we have our sights set on export as well as domestic expansion."
He added that the trend for no & low would become a category norm in the way organic and free from has as consumers, particularly at the younger end of the market, moderate rather than abstain.
Bemuse is also raising on the Crowdcube platform to scale up the sparkling, non-alcoholic mead brand. It is currently overfunding after beating its £252k goal, with cash going towards winning new listings for the four-strong range of all-natural, gluten-free drinks.
Founded in 2020 by Anna Chalov and Nataliya Peretrutove, the brand launched in 2021 and is made using the traditional mead recipe of honey, water, yeast and natural flavour infusions. It is distributed in the UK and Benelux, with talks ongoing to expand to the US, Canada, Sweden, Australia and China.
Co-founder Anna Chalov said the off-trade demand for no & low has seen drinks stocked in the well-being sections of stores.
"In Sainsbury's, you can now find alcohol substitutes in two places: the alcohol section, where they have traditionally been placed, and now also in the wellbeing section, together with healthy snacks and functional products.
"Bemuse has got listings in several health stores recently, fitting with the trend."
Jump Ship surpassed a £280k target on Seedrs to help it install what it claimed would be Scotland's first specialist alcohol-free brewery. It currently brews a core range of four small batch beers at less than 0.5% abv and supplies the on-trade and hospitality industry, including hotels and including Michelin-star restaurants.
Sonja Mitchell launched the business in 2019 on the back of successful Crowdfunder campaign. It also exports to the US and Finland, with a planned roll out to a further 300 Finnish stores this year.
The business is also aiming to expand distribution to retailers, as well as strengthening its position in the on-trade and growing D2C sales.