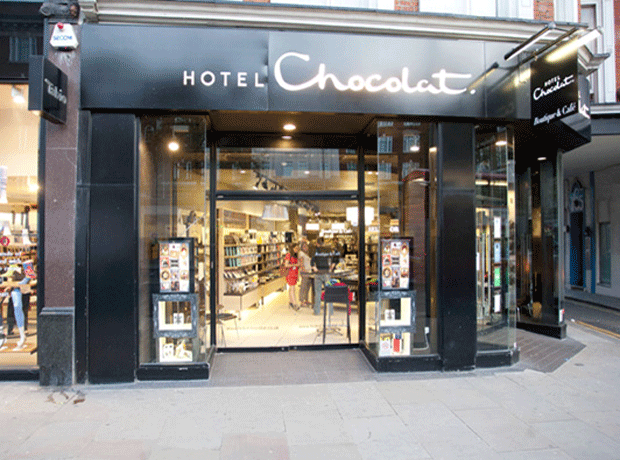 Hotel Chocolat has completed its flotation on London's AIM exchange with investors flocking to the luxury chocolatier and pushing the valuation past the £150m forecasts to £167m.
Founder Angus Thirlwell said the strong demand from investors was a "vote of confidence" in the future of Hotel Chocolat, with the placing significantly oversubscribed.
Thirwell and co-founder Peter Harris are set for a shared £43.5m payday after selling 33% of the group in the float on the junior market of the London Stock Exchange.
Hotel Chocolat placed about 8.1 million new and 29.4 million existing ordinary shares with institutional and other investors to raise £55.5m, with £12m to be used to roll out more shops in the UK, invest in its Cambridge factory and launch a new website with a focus on mobile.
It is the first major food and drink IPO in London since Fever-Tree got away a £154m IPO in November 2014.
The business, which opened its first shop in north London in 2004, is expected to start trading its shares on AIM on 10 May under the ticker HOTC.
"This is a big event in the overall development of Hotel Chocolat and we are looking forward to starting chapter two of the business," Thirlwell said. "It feels good to have received a very strong level of investor demand. The underlying reason is a vote of confidence in what the brand can do and it is very much a vote on the future of Hotel Chocolat. Our belief in sticking to a top quality product and trying to reinvent a new style of British chocolate resonated well with investors and is a vote of confidence in the business."
Hotel Chocolat returned to profitability in the year ended 28 June 2015, with pre-tax profits rising to £3m from a £7m loss in 2013/14 as group sales increased 10.2% to £81.1m. First-half revenues to December increased 14% against the prior year with EBITDA 41% ahead as sales grew faster than overheads.
The group has continued to trade in line with management expectations in the second half but Thirlwell didn't go into specifics.
"We want to see Hotel Chocolat fulfil its brand destiny with a disciplined delivery of what the brand can do and that does raise the expectations of the whole management team but we are ready for it."
Thirwell said in March when IPO plans were unveiled that a float was the preferred option over a sale to private equity as it allowed him to protect the brand identity.