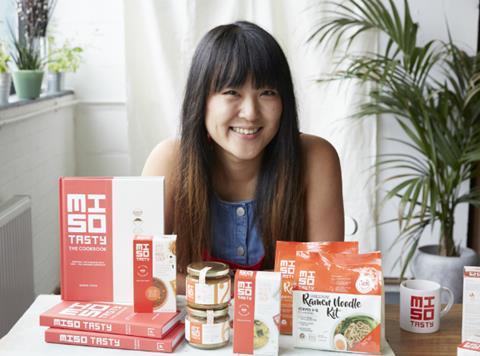 Japanese-style meals and snacks startup Miso Tasty has secured £150,000 in its latest round of crowdfunding, taking just four hours to reach the target.
The brand kicked off a 60-day Seedrs campaign this morning (9 April) to raise cash for a summer rollout to Tesco and Morrisons, offering 6.86% of equity in exchange for £150k – valuing the business at £2,037,500. At the time of writing on Monday lunchtime, it was overfunding at 102% through 104 investors.
Miso Tasty would not immediately close the Seedrs push, the brand's founder and CEO, Bonnie Chung, told The Grocer. It would continue for at least "the next couple of days to see what the overfunding will look like. Then we'll probably make a call."
The money raised will be used to support the rollout in July of Miso Tasty's new look into Morrisons – its first listings with the mult. The following month will mark the brand's debut in Tesco and the launch of six new meal kits.
Former chef Chung established her business in 2014 – aimed at bridging "the gap between eating authentic Japanese food in restaurants and having the know-how plus time to recreate them at home". Its Japanese-inspired soups, pastes and noodle kits are now stocked in more than 1,000 stores nationwide, including branches of Waitrose, Sainsbury's, Booths, Planet Organic and Whole Foods Market.
Last year, Miso Tasty's first crowdfunding drive raised £150k on Seedrs within 36 hours.
Sales of the brand's red miso paste surged in August after being praised on TV by Jamie Oliver during his Quick & Easy Food show. Some Waitrose stores even sold out of the product, said Chung at the time, while online sales on the brand's website increased by 70%.