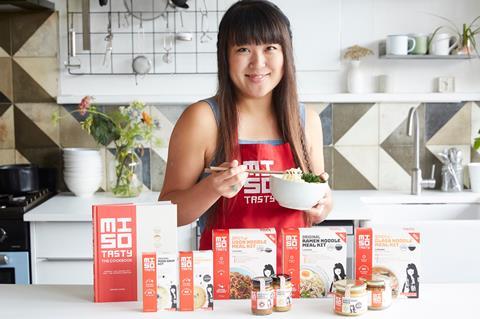 Miso Tasty, the Japanese-style meals and snacks startup, is preparing to end its latest Seedrs push, having exceeded its £350k target.
The London brand said it would close the funding round "early in the next week" after raising 100% of funds on Friday (3 April). At the time of writing, it was approaching £370k in exchange for more than 13% equity across over 300 investors – "despite the challenging economic environment for investments".
Some financial experts had advised Miso Tasty to "pull the campaign down and try again once the impact of the coronavirus had slowed down" said founder Bonnie Chung. "But this would mean we would lose all the crowdfunded investment we had raised so far."
Putting the request for funds on hold until later in the year "felt even riskier" she added. "We have no idea what the world will be like in six or 12 months' time."
Having reached 79% last week, the campaign stalled, Chung said. "We decided to go for another shot." A live video pitch on the Seedrs website helped achieve the £350k target.
It will be used to support a marketing plan to drive Miso Tasty's brand awareness, launch two new product ranges, and grow and retain the brand's team.
"It was really important to remind our investors that food is one of the few sectors that are growing massively during this time," Chung said. Miso Tasty – which is listed by Tesco, Waitrose, Morrisons, Sainsbury's and Ocado – tapped trends for pantry products, natural food and "adventurous" cooking, she added.
It comes after the six-year-old business – which kicked off its Seedrs push in mid-March with a valuation of £2,037,500 – saw its week-on-week volume sales double amid widespread stockpiling by shoppers.
In April 2018, Miso Tasty raised a targeted £150k from the crowd in just four hours.